End of an era
Harvey's Progressive Barber Shop to close Downtown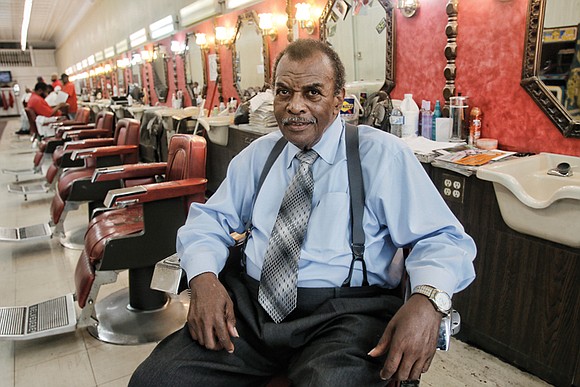 For hundreds of Richmonders, Harvey's Progressive Barber Shop in Downtown has been their go-to place for a haircut.
No more.
The iconic shop at 22 E. Broad St. will close for good Oct. 1 after the final customer leaves Saturday afternoon.
The barbershop's 83-year-old owner, Franklin D. Harvey Sr., said he has agreed to sell the building to an undisclosed buyer who wants to do something else with the property.
"At my age, I decided it was time to sell," Mr. Harvey said matter of factly. He also noted that none of the barbers who rent chairs "were prepared" to buy the building and take over.
Mr. Harvey has been involved as a barber and shop owner in Richmond for almost 60 years. He also is a minister.
"It's been a good business," he said.
In his heyday, he operated two shops with a total of 26 chairs — creating one of the largest independent barbering operations in the state.
Along with his shop, he also earned recognition for inventing the Afro Master, a popular comb with a pick that he said enabled customers to pick out and shape natural hair. He developed the comb in the 1970s and received a patent for it in 1986, but said he no longer markets it.
"Styles have changed," he said.
He gave up cutting hair around 1990, he said, when he started studying for the ministry at the Richmond Virginia Seminary, but he continued renting chairs to other barbers, some of whom went on to open their own shops.
He said he charged $135 a week in rent, and the flood of customers enabled other barbers to make a good living.
A native of King and Queen County, Mr. Harvey said he began cutting hair for his siblings and others as a youth. After serving in the Air Force, he said he got serious about the profession when he returned to Richmond.
After graduating from barber school, he said he began building a business and opened his first shop about 1961 in rented space on North 2nd Street.
In 1966, he said, he moved his shop to 1st and Broad streets. City records show he purchased the building in 1973 for $35,000. That shop had 11 chairs.
Mr. Harvey expanded the operation after buying 22 E. Broad St., where he installed 15 chairs. City records show he took over the building around 1976 and completed the purchase in 1979, when he and his wife, Christine Harvey, bought it for $55,000.
Two years ago, as he began to ease out of the business he once dominated, he sold the building and business at 1st and Broad streets to another barber, Melvin McCormick Jr., who renamed it McCormick's Progressive Barbershop.

One of 10 children, he said he and a brother, Winston Harvey, were the only ones to go into the barbering trade. He said Winston Harvey sold his Church Hill shop a few years ago, but is still cutting hair there.

Mr. Harvey is not sentimental about closing up shop.
"I'm looking forward to what's next," he said.