VCU's Institute of Contemporary Art to bring artwork to local barbershops, salons
6/2/2017, 11:46 p.m.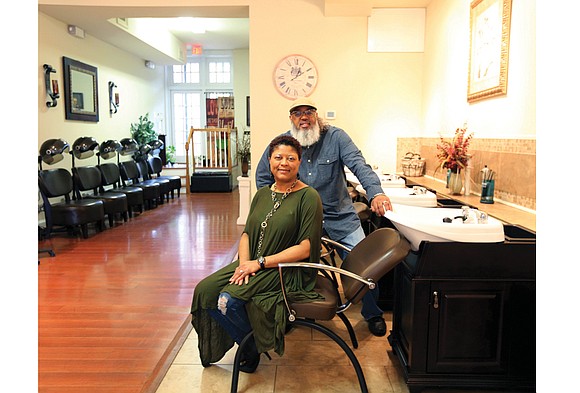 By Holly Rodriguez
Salons and barbershops have been central communication hubs in African-American communities for as long as they have existed.
Detroit-based letterpress artist Amos Paul Kennedy Jr. knows this, and is working with 12 local barbers and salon owners to bring his art into their spaces.
His work, a letterpress process of using words on heavy-duty paper, consists of sayings or phrases that resonate with African-American life, such as the African proverb, "To get lost is to learn the way."
For his latest project, Mr. Kennedy is working with Richmond shop owners to use phrases that will resonate with customers and visitors at each location. When completed, the prints with the shop owners' phrases will be displayed in the barber and beautyshops alongside Mr. Kennedy's art.
One of those barbers is Dawayne Taylor, owner of Taylor's Barbershop that has three locations in Richmond. At his shop at 11 E. Broad St., a wall sits empty and ready to display Mr. Kennedy's art.
"Barbering is a style of art, and what Amos does is art," he said. "In barbershops, that's where you're talking about sports, life, business and family, and having art like his will direct thought patterns, initiate conversations."
The project is sponsored by the Virginia Commonwealth University's Institute of Contemporary Art, and will be installed and ready for public view on Oct. 28, to coincide with the ICA's inaugural exhibition, "Declaration." Work by Mr. Kennedy and more than two dozen artists will be included in that exhibit at the new institute at 818 W. Broad St.
Amber Esseiva, curatorial assistant for the project, said in talking with Mr. Kennedy about his work, he was clear about the necessity of accessibility, with a strong belief that art belongs to the community in which it is created.
"Part of the mission of ICA is to not just exist in the community, but have the community be a part of ICA," Ms. Esseiva said. "Amos' work aligns with that mission."
Mr. Taylor said his barbershops felt like a perfect match for Mr. Kennedy's art when Ms. Essieva first approached him about the project.
"The barbershop is therapeutic, as is art," he said. "The barbershop becomes a community and the art is an expression of our community."
A Henrico County native, Mr. Taylor worked in behavioral health before deciding to become a barber. Examples of statements he is suggesting Mr. Kennedy use for art to be displayed in his shop include, "What are morals?" and "Integrity is everything."

"These are life statements that I hang my hat on personally," he said. "As a barber, I'm often a mentor for young men who come sit in my chair. They are going to school, getting married or even getting older and in transition. And these sayings are principles I live by that are important in my life."
Nearby at 11 E. Grace St., husband and wife team Antonio and Martina Turner, owners of Unleashed The Salon, see the project as being good for business because it will bring forth a fresh perspective.
"It's an outreach project," Mr. Turner said. "I'm really big into affirmations and I dig realness, too, and wisdom is at the top of the list."
He said just like art, a barbershop's success lives or dies on how you make people feel.
"In that vein, words are very powerful. We need access to positive words," he said, adding that Mr. Kennedy's art is an opportunity to expand on the use of words for inspiration.
Ms. Esseiva said the shops will be able to keep the art at no cost.
Born in Lafayette, La., Mr. Kennedy is a veteran of the corporate world who left the 9-to-5 grind to pursue his passion for creating art through the letterpress.
He said the idea behind using vibrant colors and artistic design to write phrases on chipboard — a heavy cardboard-type material composed of compressed recycled newspaper and paper materials — for wall display is to evoke conversation about race and class in America, as well as other contemporary issues.
His work has been shown in exhibitions all over the world, from Brooklyn, N.Y., to St. Gallen, Switzerland.
The ICA exhibition will run through Feb. 25.