New ICA exhibit, 'Great Force,' to include late Free Press founder
10/4/2019, 6 a.m.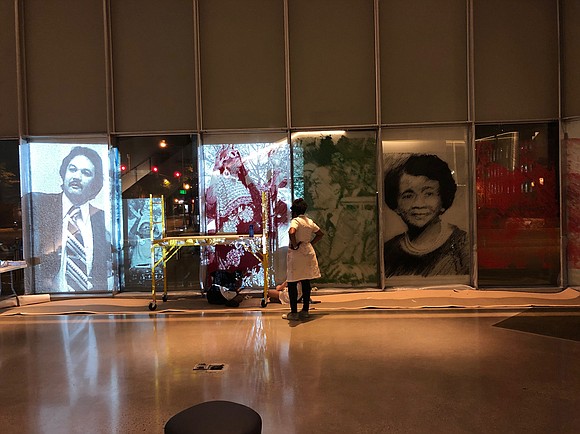 The power of white culture versus black resistance is at the heart of a major art show opening this week at Virginia Commonwealth University's Institute for Contemporary Art.
The exhibit, "Great Force," is opening with a celebration 6 to 9 p.m. Friday, Oct. 4, as part of the First Fridays art walk in Downtown and brings together a diverse array of artists offering their views on "the persistent force of black- white racial constructs in the United States," according to the ICA.
Accompanied by a host of other programs, the show will feature the works of 24 artists, ranging from Richmond-born video artist Tony Cokes to modern artists based in New York, Atlanta, Los Angeles and Chicago such as Sable Elyse Smith, Paul Mgpagi Sepuya and Mores McWreath.
A display considered likely to attract national interest from art critics will include ICA-commissioned drawings of Tomashi Jackson that seek to address the over-saturation of Confederate monuments in Virginia.
Her drawings also celebrate late black human rights advocates, including Raymond H. Boone , the late founder and former publisher of the Richmond Free Press, Maggie L. Walker, John Mitchell Jr., Dorothy Height, Elizabeth Keckley, Alicia Rasin and federal Judge Spottswood W. Robinson III.
The multifaceted exhibit will feature sculpture and paintings as well an installation by video artist Xaviera Simmons as featuring 60 one- minute videos of her travels across the nation and a new untitled piece from Radcliffe Bailey that is part of his "Door of No Return" series.
Other items include two of Alexandra Bell's "Counternarratives," featuring creative edits of enlarged New York Times articles in which she found racial bias and a space dedicated to the Racial Imaginary Institute that Claudine Rankine and John Lucas conceived that will feature their works and the work of Claudine Lagarde.
Along with the art, the ICA also will host singers, musicians, dancers, lecturers and other events during the show's run through Jan. 5.
For example, the ICA will screen award- winning filmmaker Jenn Nkiru's short films at 6:30 p.m. Wednesday, Oct. 9, and will have two artists giving away plants from Rashid Johnson's "Monument" installation from noon to 5 p.m. Sunday, Oct. 13.
The show is the brainchild of ICA assistant curator Amber Esseiva, a Parisian émigrée.
An admirer of the late American writer James Baldwin, who fled to Paris to escape racism in his native land, Ms. Esseiva said the exhibit is based on a key quote from his 1965 essay, "White Man's Guilt," published in Ebony magazine:
"White man, hear me! History, as nearly no one seems to know, is not merely something to be read. And it does not refer merely, or even principally, to the past. On the contrary, the great force of history comes from the fact that we carry it within us."