VCU's Institute for Contemporary Art embraces community with grand opening block party Saturday
4/20/2018, 7:27 a.m.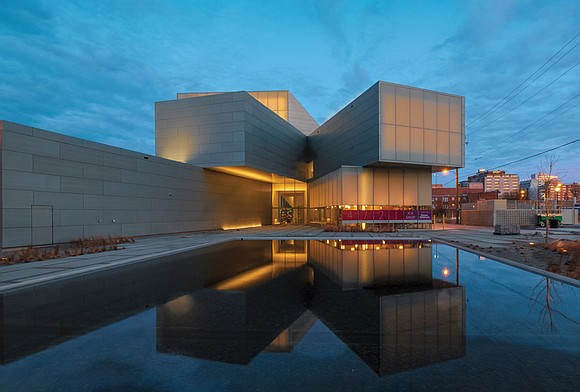 By Samantha Willis
For more than a year, curious eyes in Richmond and across the nation have watched an angularly shaped structure rise at the corner of Broad and Belvidere streets, the newest offering in the country's array of contemporary art museums and spaces.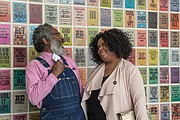 Now, construction is over, and the distinctive, $41 million, 40,890-square-foot Steven Holl-designed building housing Virginia Commonwealth University's Institute for Contemporary Art will open its doors to the public on Saturday, April 21.
"We are delighted to open the ICA and welcome the Richmond, VCU and art world communities into the building," Joseph H. Seipel, interim director of the ICA, said in a media statement. "Beginning with our inaugural exhibition 'Declaration,' our programming will demonstrate the significant role the ICA will play in our vibrant community."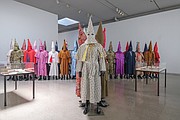 The building has four galleries and a ground-floor café that opens onto a sculpture garden and reflecting pool. Featuring almost 70 works by a diverse array of 33 artists, "Declaration" includes several African-American artists, including VCU School of the Arts faculty member Sonya Clark, printmaker Amos Paul Kennedy Jr. and VCU iCubed Visiting Arts Fellow Paul Rucker. All three artists address race, racism and history in unique ways.
Ms. Clark is celebrated for her fiber works, which often are interwoven with human hair. Mr. Kennedy is known for his bold printed signs, usually bearing racially charged, proactive messages. Mr. Rucker's works include Ku Klux Klan robes that the artist deconstructed and reimagined using materials such as kente cloth.
The ICA grand opening kicks off with a block party 10 a.m. to 4 p.m. Saturday packed with local musical favorites like Mighty Joshua, the Legacy Band, Chance Fisher and more. Food and beverage vendors will be on site for the event that will be emceed by Kelli Lemon and Lonnie B.

Admission to the museum is free, but timed tickets are required to access the building and exhibition during opening weekend.
"Declaration" will be on view through Sept. 9.
A native Richmonder and founder of the Afrikana Independent Film Festival, Enjoli Moon serves at the ICA's adjunct assistant curator of film. In her role, Ms. Moon will use stories told on screen to connect all sectors of the city.
"I believe it is the responsibility of the ICA and the film program I'm crafting to act as a bridge that connects all corners of our city and encourages people from all communities to engage with our space," Ms. Moon said.
The ICA's space will be an incubator of sorts, birthing and nurturing ideas and dialogue. Ms. Moon's "provocative, socially relevant" film program will encourage "conversations that deliberately inform the way our city evolves while deepening our understanding of the world around us."
The ICA's inaugural film program, "Declarations of INDIEpendence," begins June 13 and will run every second Wednesday each month thereafter, with free admission.
"Our opening screening is titled 'Richmond Speaks' and will highlight pieces about Richmond citizens that have committed themselves to championing the underrepresented stories and voices of our city," Ms. Moon said. A moderated discussion will follow the film.
Details and grand opening tickets: www.ica.vcu.edu.