Activist claims no signs banning interstate hitchhiking invalidates his arrest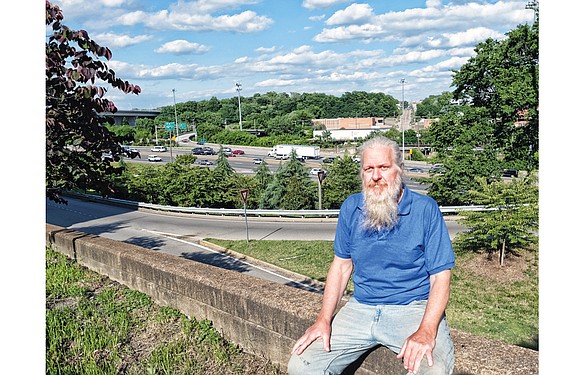 The Virginia Department of Transportation appears to be flouting a state law.
That law, section 46.2-808 of the state code, requires the agency to post signs on entryways to the interstates stating that pedestrians, horseback riders, farm tractors, cyclists and mopeds are banned from using high-speed, controlled-access highways.
The department has yet to respond to a Free Press request for comment, but a Free Press check found no such signs posted on interstate entries in Richmond.
Pedestrians are a rare sight on such highways — with some walking to find gas or seek a tow for their broken down vehicles.
However, VDOT's failure to post such signs raises the question of whether it is legal to arrest pedestrians who are found on the highways.
Daniel Kingery, an activist and self-taught constitutional scholar who was arrested for hitchhiking on Interstate 95 in Richmond, brought the issue to the Free Press.
The 56-year-old Iowa native said he was trying to use the state agency's failure to post signs to challenge his arrest.
"I wouldn't have gotten on the highway if it had been posted," he said. "I would have stayed on Route 1."
He was arrested April 21 after following the 14th Street entry onto Interstate 95 in seeking to make his way to Florida.
Veteran State Trooper W.H. Napper took Mr. Kingery into custody after Mr. Kingery refused to leave the highway or accept the trooper's offer to drive him to the next exit.
While the law authorizes the Commonwealth Transportation Board to prohibit pedestrians, certain two-wheeled vehicles, animals and slow-moving equipment from interstates, the section also states that "the termini of any section of controlled access highways, use of which is restricted under the provisions of this section, shall be clearly indicated by a conspicuous marker."

When he went to court, Mr. Kingery found it difficult to challenge the status quo.
At the request of his public defender, Mr. Kingery was sent to Central State Hospital in Petersburg for a mental evaluation, in part, because he was not eating.
"I told them that it was not unusual for me not to eat for weeks at a time. I fast a lot," he said. "But they wouldn't believe me."

He said his lawyer also was angry that he refused to accept a plea bargain.
He was held at the psychiatric hospital for 16 days until the evaluation was completed. Refusing medication, he said he wiled away the time writing, listening to music and counseling other inmates on their rights before the hospital released him back to the Richmond City Jail with a finding he was fit to stand trial.
"I don't know why I was held so long," Mr. Kingery said. "I think they were just trying to intimidate me. They knew from the first day that I should not be there."
When his hearing date in Richmond General District Court came up in late May, he was thwarted again.
His defense attorney and the prosecution declined to try the case. Instead, a judge accepted their recommendation to take the case under advisement and released Mr. Kingery.
"I felt he had served enough time," said Colette W. McEachin, Richmond's deputy commonwealth's attorney.
Walking on an interstate also is deemed a traffic infraction rather than a criminal offense, according to state law.
Because of the judge's action, Mr. Kingery's case remains open and that means he cannot appeal to the Circuit Court.
"This is not the way I wanted this to end," he said. "Having served the time, I felt I had a right to be heard on the issue of wrongful arrest and incarceration. I'm going have to figure out another way. I think it is wrong to arrest people under a law the government has refused to follow."
He said his time in jail has impacted his driver's license.
"Virginia puts a charge against my license of $2 a day for my jail stay, and I can't get my license renewed unless I pay what amounts to extortion," he said.
He said he knows he would win if a judge fully hears his case and reviews the language of the law. The language is straightforward, he said.