Va. Legislative Black Caucus touts wins in 2017 General Assembly session
3/4/2017, 8:52 a.m.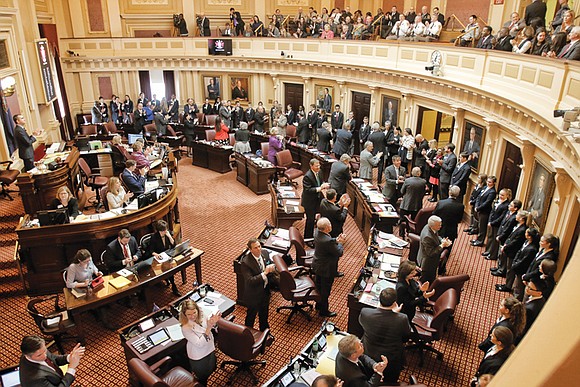 By Saraya Wintersmith
Members of the Virginia Legislative Black Caucus said they're proud of what they managed to accomplish in the 2017 General Assembly session, despite being a small contingent of Democrats within a Republican-controlled legislature.
"We have worked together to support and vote for legislation that will make a difference in people's lives," said caucus Chair Roslyn C. Tyler of Sussex.
She cited bills sponsored by caucus members — and approved by the General Assembly — that, among other things, allow community college credit for people who successfully complete state-approved apprenticeship programs and that require new, standardized traffic stop procedures to be taught in drivers' education programs in Virginia's public schools.
Members of the 18-person caucus recounted their legislative victories during a wrap-up news conference last week. The legislative session ended on Saturday, with lawmakers giving final approval to a $107 billion, two-year budget that restored a 3 percent pay hike for state employees.
The spending plan now before Gov. Terry McAuliffe also provides a 2 percent raise for teachers, faculty members at the state's public colleges and additional funds to boost salaries of State Police, sheriff's deputies and other state-supported law enforcement officers.
One of the caucus' main priorities this session was protecting Gov. Terry McAuliffe's education funding for kindergarten through 12th grade.

"We have to make sure that our children have the money in our systems for academic excellence and job training skills," Delegate Tyler said at the legislative session's opening in early January.
Leading Republicans in both the House of Delegates and the Senate also called education investment a priority.
The final budget included about $18 million more in K-12 funding than Gov. McAuliffe proposed.
Sen. Jennifer L. McClellan of Richmond said the increased funding should help public schools, which are a primary place of education for children of color.
She also pointed to the spending plan's $32 million for increased mental health services as a win for Virginia's African-American communities. The budget agreement includes $5 million for supportive housing within the community for people with mental health issues and same-day access to mental health and opioid treatment services.
"While almost everyone is touched by, or knows someone who is touched by mental illness, the black community disproportionately doesn't get treatment," Sen. McClellan said.
"I think anything that we can do to expand access to mental health services impacts the black community, probably more so because it's so much harder particularly for poor black people to get access to mental health services."
The caucus also suffered legislative losses. Their push for raising the state minimum wage and for redistricting reform were defeated in committees where the membership is stacked with Republican lawmakers.
The caucus also backed measures to curtail the length of school suspensions, but the bills were killed by lawmakers who believe local school officials should have full authority to address such issues.
Other measures approved by the General Assembly allow community organizations to possess and dispense naloxone, a drug that has helped to curb the rising number of overdose deaths; require public school systems to test drinking water in school buildings built before 1986; and require judges to consider a person's financial situation when setting up a payment play for unpaid fines.