Personality: Jill Bussey Harris
Spotlight on president of Richmond Chapter of The Links Inc.
3/17/2017, 8:18 p.m.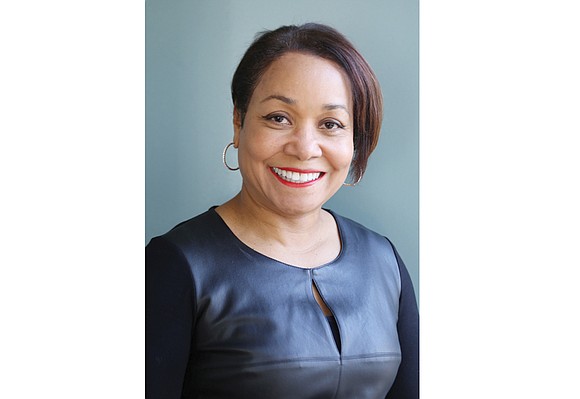 Jill Bussey Harris has been building a vibrant dental practice in Richmond for 20 years, making history along the way and always finding time to give back to the community. But her 31-year relationship with the Richmond Chapter of The Links Inc., holds a special place in her heart.
She has served as chapter president since 2013.
"The Links was founded in 1946 by two friends when we needed help in our community," says the Louisville, Ky., native known professionally as Dr. Bussey. "There was a lack of cultural enrichment in the community. And it is ironic, but we still need that enrichment today."
For 65 years, The Richmond Chapter of The Links Inc. has been engaged in various programs to uplift the Richmond community. To celebrate, the organization is hosting its 9th Biennial Art in the Atrium, an art auction and dinner on Saturday, March 25, at the Virginia Museum of Fine Arts. Proceeds will benefit the Black History Museum and Cultural Center of Virginia, the Fisher House at McGuire Veterans Administration Medical Center, Virginia Union University and other programs, including its cultural enrichment program, FMA Squared — Focused, Motivated Achievers at Franklin Military Academy.
The theme for the event: "Celebrating 65 Years of Service — Honoring Our Past, Building a Legacy." In addition to auctioning 26 pieces of art by local noted artists, the fundraising event also will feature a silent auction of five luxury packages, including accommodations in Virginia's horse and wine country, a VIP experience at the Richmond Jazz Festival, red carpet treatment with star-studded access to films, parties and movie premieres at the Virginia Film Festival in Charlottesville and thrill-seeker packages for Kings Dominion and Busch Gardens theme parks. There also will be raffle tickets for fine jewelry and electronics.
"I hope people (will leave the event) feeling exhilarated by having the opportunity to purchase world-class art while supporting a worthy cause in the community," Dr. Bussey says.
The chapter continues to provide programs to a select group of eighth-grade girls at Franklin Military Academy. It has been working with the students since they were sixth-graders and will continue through the girls' graduation from the specialized high school within Richmond Public Schools.
Every Tuesday, the students meet with volunteers for such programs as etiquette, dental screenings, theatrical and ballet performances and trips to places including The Kennedy Center and the Smithsonian National Museum of African American History and Culture in Washington, Dr. Bussey says.
Passionate about history, education and enriching the lives of young women, Dr. Bussey says she had the support she needed and understands how that support has fueled her success.
Dr. Bussey was the first African-American female full-time assistant professor at the Virginia Commonwealth University School of Dentistry when she was hired in 1989. She also is busy with her private dental practice in the city's West End.
"Service to our youths is so important," she says. Meet this week's Personality, Jill Bussey Harris:
Occupation: Dentist.
Place of birth: Louisville, Ky.
Current residence: Richmond's West End.
Education: Fisk University, B.A. in biology; University of Louisville School of Dentistry, D.M.D.
Family: Husband, Dr. Monroe E. Harris Jr. and children, Monroe E. Harris III and Madison Bussey Harris.
Present volunteer leadership position: Richmond Chapter of The Links Inc., president, 2013 to 2017.
Other leadership roles in the community: Owner of Beautiful Smiles by Dr. Jill Bussey; 2016-17 Bon Secours Grand Rounds for Community Leaders; 2016-17 W.I.S.H. Circle Fairy Godmother for Make-A-Wish Foundation; SPARC Board; Richmond Ballet trustee; and Lewis Ginter Botanical Garden board.
The Links mission: Transforming lives, one child at a time, through education, health and wellness and cultural engagement.
Number of Links chapters in area: Three chapters in Richmond.
Total number of Links chapters: 283 chapters.
How does art impact you personally: I feel that art is an expression of love, freedom and joy. Art exposes the beauty in all of us. It is inspirational.
Why art is important to a community: Art is a preservation of our culture. Art in our community makes Richmond a much better place.
Kindergarten taught me: To always listen to my parents because they have my best interest at heart.
Outlook at start of day: I always start with prayer and meditation because each day is an opportunity and I am an optimistic person. Every day is a good day.
How I relax and unwind: Spending time with my family and loved ones, preferably anywhere there is a warm climate.
Nobody knows that I: Wanted to be a professional singer.
If I had more time, I would: Write a book.
Persons who influenced me the most: My parents.
Book that influenced me the most: "Before the Mayflower: A History of Black America" by Lerone Bennett Jr.
What I'm reading now: "Missing Mary: A Crash Course in Alzheimer's Dementia" by J. McMullin.
If I've learned one thing in life, it is: Live every day like it's your last day.