Seed money stalled for city's Whitcomb Court redevelopment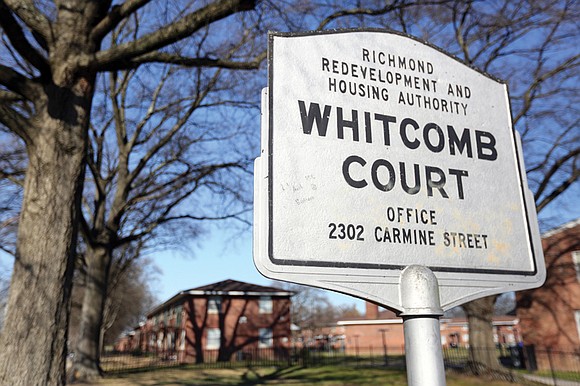 By Jeremy M. Lazarus
With the transformation of the Creighton Court public housing community underway, Richmond City Hall is seeking to change a second public housing community, Whitcomb Court, into a mixed-income community.
While heavy machinery clears away the former Armstrong High School and prepares the ground for development of new homes and apartments, the city is asking for permission from a surprisingly balky City Council to begin pre-development work for ushering in change to Whitcomb Court and the Eastview neighborhood it abuts.
The proposal the administration has introduced seeks City Council's approval to spend $250,000 to hire the nonprofit Better Housing Coalition to conduct a feasibility analysis and to work with residents of the area.
The aim is to create a strategic plan to "address Eastview's residential blight and decay," as well as to start creating change in Whitcomb Court. Both are located west of Mechanicsville Turnpike, about 3 miles northwest of Creighton Court.
Nothing is set in stone and it could take years to move from planning to construction. Yet, already there are visions of creating new apartments on the site of the city's former juvenile court and detention complex on Mecklenburg Street.
The largely vacant and increasingly bedraggled property is now owned largely by Pilgrim Baptist Church on adjacent Whitcomb Street, which has long hoped to use the former city property for community betterment.
A portion of the property is occupied by SAARA of Virginia, a grassroots, nonprofit addiction treatment program.
City Council previously embraced the decision of former Mayor Dwight C. Jones to make Whitcomb Court the second community to be revitalized as part of a long-range effort to reduce poverty in Richmond.
However, instead of sailing through, the proposal to spend the $250,000 has stalled after meeting resistance from several of council members.
For example, Councilman Parker C. Agelasto, 5th District, objects to using capital funds to pay for the study. The city borrows capital funds and then repays them with interest.
He considers it financially unsound for the city to use its credit card for such pre-planning work.
"We'll end up spending an additional $140,000 in paying this back over 20 years," he said. "If we're gong to do this, it should be paid from the general fund."
Even though he voted with his colleagues to allow such uses in previous capital budgets, he said he thought Mayor Jones was wrong to used borrowed money for studies like the one now proposed.
Councilwoman Kristen N. Larson, 4th District, meanwhile, is seeking assurances that the planning work will not end up sitting on the shelf, but will result in development plans that will move ahead.
And Councilwoman Kim Gray, 2nd District, wants the administration to show that hiring the Better Housing Coalition is the least expensive way to handle the pre-development work.
The result: The proposal remains on hold in the council's Finance and Economic Development Committee.
That's frustrating for Councilwoman Ellen F. Robertson, whose 6th District includes Whitcomb Court and Eastview.
While Creighton Court has gotten the attention and publicity, Ms. Robertson has spent the past two years working behind the scenes to move the Whitcomb Court transformation forward.