Commencement season begins at area colleges, universities
5/5/2017, 9:08 p.m.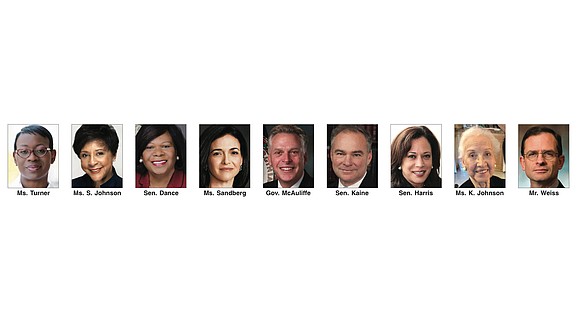 The time of cramming for final exams, pulling all-nighters to finish papers and rushing to complete presentations and projects is over.
For college seniors, their parents, families and friends, it's time to celebrate commencement and the next step on the journey.
An array of speakers — from an inspiring, groundbreaking NASA mathematician to a former U.S. vice presidential hopeful — area poised to deliver commencement addresses at upcoming events in Richmond and nearby.
Below is a partial list:
Saturday, May 6
Norfolk State University, 4 p.m., Norfolk Scope, 201 E. Brambleton Ave, Norfolk. Speaker: Nina Turner, assistant professor of history at Cuyahoga Community College in Cleveland, political commentator and former Ohio state senator. This is NSU's 100th commencement ceremony.
Sunday, May 7
University of Richmond, 2 p.m., Robins Center on campus. Speaker: Sheila Johnson, co-founder of Black Entertainment Television and founder and CEO of Salamander Hotels & Resorts.
Friday, May 12
Virginia Tech, 8:30 a.m., Lane Stadium, Blacksburg. Speaker: Sheryl Sandberg, COO of Facebook and author of the newly released book, "Option B: Facing Adversity, Building Resilience and Finding Joy."
John Tyler Community College, 6:30 p.m., Multi-Purpose Center at Virginia State University, 20809 2nd Ave., Petersburg. Speaker: State Sen. Rosalyn R. Dance of Petersburg and JTCC alumna and member of the school foundation's board.
Saturday, May 13
Virginia State University, 9 a.m. and 2 p.m., VSU Multi-Purpose Center, 20809 2nd Ave., Petersburg. Speaker: Jeff Johnson, managing principal of JIJ Communications strategy firm and motivational speaker.

Virginia Union University, 10 a.m., Hovey Field on campus, 1500 N. Lombardy St. Speaker: Gov. Terry McAuliffe.
Virginia Commonwealth University, 10 a.m., Richmond Coliseum, 601 E. Leigh St. Speaker: U.S. Sen. Tim Kaine, who ran for vice president in November on the Democratic ticket and is a former Virginia governor and former Richmond mayor.
College of William & Mary, 10 a.m., Kaplan Arena on campus, Williamsburg. Speaker: Walter Isaacson, president and CEO of the Aspen Institute and former chairman and CEO of CNN.
Howard University, 10 a.m., the Upper Quadrangle of the main campus, 2400 Sixth St. N.W., Washington. Speaker: U.S. Sen. Kamala D. Harris of California, an HU alumna and the first African-American and first woman to serve as attorney general of California.
Richard Bland College, 3 p.m., Statesman Hall on campus, 11301 Johnson Rd., Petersburg. Speaker: Tom Dorsey, co-founder of Dorsey, Wright & Associates, an investment firm in Richmond.
Sunday, May 14
Hampton University, 10 a.m., Armstrong Stadium on campus, Hampton. Speaker: Katherine Johnson, retired NASA mathematician whose trailblazing life and work were featured in the 2016 film, "Hidden Figures."
J. Sargeant Reynolds Community College, 2 p.m., VCU's Siegel Center, 1200 W. Broad St. Speaker: Jamelle Wilson, dean of the School of Professional and Continuing Studies at the University of Richmond.
Friday, May 19
University of Virginia, 3 p.m., the Lawn on campus, Charlottesville. Speaker: Colombian president Juan Manuel Santos, valedictory exercises. Other speakers: Deborah E. McDowell, professor of English at U.Va. and director of the university's Carter G. Woodson Institute for African-American and African Studies, 10 a.m. Saturday, May 20, the Lawn on campus; Robert C. Planta, dean of U.Va.'s Curry School of Education, 10 a.m. Sunday, May 21, the Lawn on campus.
Saturday, May 27
Randolph-Macon College, 10 a.m., Frank E. Brown Fountain Plaza on campus, Ashland. Speaker: Daniel H. Weiss, president and interim chief executive of The Metropolitan Museum of Art.