Free Press photographer selected for prestigious journalism fellowship
5/5/2017, 7:35 p.m.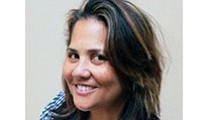 Richmond Free Press photographer Regina H. Boone has been named a 2017-18 Knight-Wallace Journalism Fellow at the University of Michigan.
The coveted fellowship is one of three top journalism fellowships in the country.
Ms. Boone's selection was announced Monday.
She is among a group of 12 U.S. and seven international journalists who will spend the coming academic year at the university in Ann Arbor, Mich., to pursue an individual study plan and participate in seminars, workshops and international travel with scholars and creative thinkers from a range of fields.
Ms. Boone's area of study will be family, legacy and the viability of black newspapers.
Ms. Boone will take a leave from her position at the Free Press to participate.
"We are tremendously proud of Ms. Boone and her selection for such an esteemed program," said Bonnie V. Winston, Free Press managing editor. "It is an honor for our newspaper and the Richmond community to have her participate in the fellowship, and we look forward to her contributions when she returns."
Ms. Boone, 47, is the daughter of Free Press Publisher Jean Patterson Boone and the late Raymond H. Boone Sr., who founded the award-wining weekly publication in Richmond 25 years ago.
A political science graduate of Spelman College, Ms. Boone taught English in Osaka, Japan, to junior high school students in the countryside of her paternal grandfather's home. After three years, she traveled solo around the globe for a year, exploring places in Asia, Africa and Europe.
She returned to Richmond to hone her photography skills at the Free Press from 1997 through 2001, leaving to pursue a master's degree in photojournalism from Ohio University's School of Visual Communication.
From there, Ms. Boone was recruited by the Detroit Free Press, where she worked as a photographer for the last 13 years, winning numerous awards. Her poignant photograph of a rash-covered child affected by the lead-contaminated water in Flint, Mich., was featured on the cover of TIME magazine early last year, drawing public attention to the water crisis that impacted the largely African-American community in Michigan.
She returned to Richmond in January and rejoined the Richmond Free Press staff.
The Knight-Wallace Fellowship program is based at the Wallace House on the University of Michigan campus, a gift from the late CBS newsman Mike Wallace and his wife, Mary. The program is funded through foundation and news organization gifts.
Fellows receive a $70,000 stipend and full tuition during the course of the program, which runs from September through April.