New program to create jobs, new homes and opportunity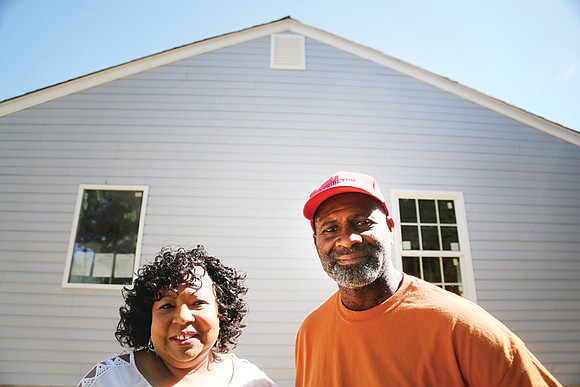 Buy vacant lots in depressed sections of Richmond.
Then have small, black-owned construction firms fill the lots with modern, affordable homes that can sell quickly while creating jobs for nearby residents.
Repeat.
That's the strategy to increase financial independence that Grace Washington is putting into action as president of the 200-member Central Virginia Business and Construction Association, a nonprofit trade group for black businesses.
On Thursday, May 4, Ms. Washington and her partners will showcase the pilot effort for this self-help effort to strengthen community businesses and uplift people and neglected neighborhoods.
Ms. Washington will lead a groundbreaking for the first five houses at noon at 1501 Mechanicsville Turnpike in the East End, two blocks from Mosby Court.
Her main partner is Andre Massenburg, a veteran contractor whose company, Amass, worked with CVBCA to buy the long-vacant lots and now is engaged in developing the homes in this first step for CVBCA's Contractor and Workforce Training Project.
This first effort involves construction of ranch-style homes with three bedrooms and two baths, Ms. Washington said. The homes, she said, are expected to sell for between $115,000 to $125,000. With interest rates still low, a 30-year mortgage is expected to create a monthly payment of $500 to $700 for a buyer, including taxes and insurance, she said.
She said CVBCA also plans to partner with groups such as Housing Opportunities Made Equal to provide downpayment assistance to potential buyers and also to enroll potential buyer in a credit repair program if needed to make them eligible to purchase a home."
Ms. Washington said the group plans to target tenants in the area who are paying as much or more to rent an apartment and who may want to own a home rather than pay a landlord.
Ms. Washington has been working with CVBCA members on the Contractor and Workforce Training Project since she took over the CVBCA leadership post a year ago.
She said businesses in the organization wanted to boost income and reduce dependence on government contracts and subcontract work, and she and Mr. Massenburg devised this program to benefit members and residents.
"Through this program, we can help ourselves and our communities," said Ms. Washington. "There are plenty of vacant lots and abandoned homes, and this is our opportunity.
"The goal is to help our members improve their bottom line while also creating employment for people who want to work but have been left by the wayside, and making our communities better places to live," she said.
The five houses will serve as an educational project in which CVBCA members can learn how to purchase, build and sell properties to benefit their own companies and their families while also tackling unresolved challenges, such as entrenched unemployment, she said.
"CVBCA members jointly have the expertise to build a house from the ground up in 90 days," she said. "We have all the skills and tools that are required to handle everything, from clearing the land and installing the foundation to framing, roofing and installing wiring, plumbing and heating and cooling equipment."
She said about 25 members are expected to take part in the pilot initiative. She hopes to double the number of participants as members learn how it is done and get started.
"Think about the impact if 50 members bought and built one house," she said. "That would bring an investment of more than $5 million into our community."
And it opens the door for CVBCA to help attack poverty with the creation of jobs.
"Our organization is committed to hiring five to 10 residents from the Mosby community, who will receive paid, on-the-job training" to work on these homes, she said.
CVBCA is partnering with the regional Workforce Resource Centers, a federally supported job development and placement effort, to provide workers and training dollars for companies that employ them, she said.
She said CVBCA also is hoping to work with the city's Center for Workforce Innovation.
Ms. Washington said the success of the program would be a game-changer for the city and the small businesses she represents.
"We wouldn't need to come to the city hat in hand seeking subsidies. This will show what we, on our own, can do when we come together."