Support builds for more fiscal controls over Mayor Stoney
Richmond Mayor Levar M. Stoney is doing all he can to avoid the fiscal handcuffs that City Council is poised to slap on him.
For now, it appears unlikely that he will get loose with a majority of council members prepared to vote to give themselves greater control over the city's purse strings.
As the Free Press first reported last week, Councilwomen Kim B. Gray, 2nd District, and Kristen N. Larson, 4th District, spearheaded a budget amendment to change the way money is appropriated for city government operations.
On Monday, three additional council members, Parker C. Agelasto, 5th District; Reva M. Trammell, 8th District; and Michael J. Jones, 9th District; stood with them to support a restructuring of the city's spending plan for the 2017-18 budget year that begins July 1.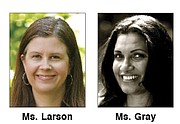 During the council meeting, only one member publicly opposed including the amendment to limit the mayor's ability to shift money within departments, Cynthia I. Newbille, 7th District.
The final vote on the amended budget is set for Monday, May 15.

Instead of providing funding in lump sums to departments, council has amended the spending plan to appropriate by programs and service codes within departments. The amendment would require the administration to seek council approval to shift money from one program area to another if the change is greater than 5 percent.
In a statement Tuesday seeking to rally public support to head off the change, Mayor Stoney describing the Gray-Larson amendment as a threat to good government and an "overreach of legislative authority." He appeared to threaten a veto of it.
If the mayor vetoes the amendment, the council would need six votes to override it.
"I fully support transparency and accountability in our appropriations," Mayor Stoney stated, "but my administration must have the ability to adjust to real-time circumstances and deploy resources in a timely manner, particularly in response to emergencies.
"No other locality in the commonwealth has adopted such restrictive budget processes," he said.
But Ms. Gray called the mayor's statement overblown, saying the new procedure would apply only to larger departments, such as Economic and Community Development, Fire, Human Services, Police, Public Works and the Sheriff's Office.
"We're just taking a baby step," she said, insisting that she and her colleagues "are not trying to tie the administration's hands or create difficulties."
However, she said she and other members of the council are responding to constituents who made it clear during the fall campaign that they want to see more oversight and accountability for spending.
"They want a better understanding of where the dollars are being spent," she said.
Ms. Gray and other council members noted that the city administration, led by Chief Administrative Officer Selena Cuffee-Glenn, last year kept telling the public there was no money to cut the grass, repair potholes or pay for other core services.
But then, as council members spent hours earlier this month trying to find an additional $2.7 million to improve pay for police officers and firefighters, the Stony administration revealed it had achieved a $13 million surplus in the 2016 fiscal year.

And then, without any consultation with the council, the money was stuffed into a savings account that the council could not touch.
Several council members said publicly there was plenty of money, but the administration refused to allow it to be appropriated in an effort to impress bond rating agencies.
"We need to make sure that money we appropriate for certain items, such police pay or alley work, doesn't get shifted to cover some other costs we know nothing about," Ms. Gray said.

She said the council expects to make a $28 million investment in improving pay in the public safety arena over three years and "that kind of investment needs a healthy level of scrutiny."
Ms. Trammell said she supports the amendment because she wants to make sure the money council found to improve police and firefighter pay is used for that purpose.
Despite efforts by the administration to get her to change her mind, Ms. Trammell said she's paying no attention because "I'm hearing from my constituents, and they're telling me I'm doing the right thing."