'Know who you are rolling with,' VSU graduates are told
5/20/2017, 7:35 a.m.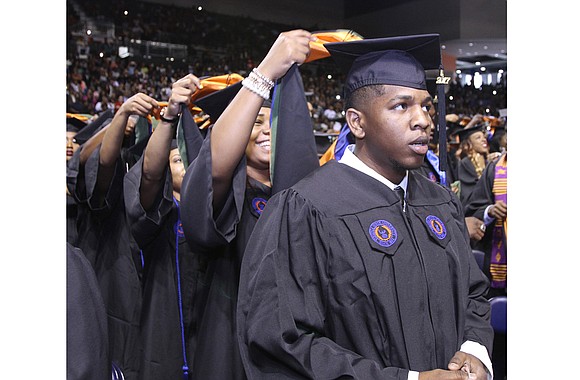 By Thomas Kidd
Virginia State University graduates were told in no uncertain terms during commencement last Saturday to "Get Out."
These words came from a fired up Jeff Johnson, a media and messaging strategist who delivered the keynote address at the ceremony held in the university's Multi-Purpose Center.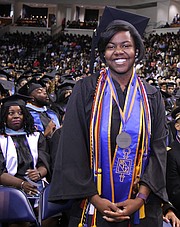 Mr. Johnson, the managing principal of the Baltimore-based strategy firm JIJ Communications, referenced the blockbuster film of the same name by writer-producer-director Jordan Peele several times during his speech to drive home the necessity of African-Americans to succeed without selling out.

"In the last two years, we've seen more content on the small and big screens produced by those who look like us," Mr. Johnson told the graduates and their families.

The communications expert then singled out the film not only for its financial and critical success but for having a message relevant for African-American graduates about to enter the workforce.
"As you go out into the world, know who you are rolling with," he told the audience. "Chris didn't know who he was rolling with," he said about the film's main character, an African-American who had a white girlfriend whose parents were wealthy.
He went on to explain that Chris couldn't identify with his girlfriend's values, cultural background and, more importantly, family history.
"Who you talk to, hang with and be around have a lot to do with your success," he said. "Are you aware that there is a system set up to use your mind, body and talent without your control over it?"
He then encouraged the graduates to take time to identify their true value, to master their craft and gifts and to seek a mentor so they won't fall under the temptation of selling out for a paycheck.
"I like money," Mr. Johnson said as the audience laughed. "I get excited every time the check clears. But you don't have to sell your soul to get it."
Mr. Johnson did not hold back in citing companies and institutions that he said he considers to be sellouts.
"I've been on BET and I watched them do it (sellout)," he said of the Black Entertainment Network that was co-founded by Sheila Johnson and her former husband, Robert Johnson, but sold for $3 billion in 2001 to the media conglomerate Viacom.
"I've seen people turn their backs for six figures," Mr. Johnson told the crowd.
He was equally frank in his criticism of Bethune-Cookman University in Florida. The historically black institution invited U.S. Secretary of Education Betsy DeVos to be their commencement speaker last week despite petitions signed by hundreds of students, alumni and supporters of the college urging the university's administration to rescind the invitation.
Earlier this year, Mrs. DeVos, who was appointed to the cabinet post by President Trump, called HBCUs "real pioneers when it comes to school choice," failing to realize and acknowledge that most of the colleges were the only option for African-American students because of segregation.
During her commencement address May 10, Mrs. DeVos was interrupted by persistent boos from the crowd, while about half the graduates stood and turned their backs on her. Bethune-Cookman's president, Dr. Edison O. Jackson, was widely criticized by students, their family and alumni, for inviting Mrs. DeVos on such an important occasion.
"You don't stand for a legacy when you invite folk who don't believe what you believe or support you," Mr. Johnson told the VSU graduates and their families.
He ended his address with gentle words of hope and a charge to the graduates to pay back the blessings they have received thus far.
"It is my hope that you will be the freest human beings — whether black, Hispanic, Asian or white. Get out, but go back in and build up."
With 624 degrees conferred on Saturday, VSU officials elected to have a morning and afternoon ceremony to accommodate the graduates, their families and friends in the new facility. Mr. Johnson performed double duty, offering the keynote address at both.
VSU also recognized two outstanding students — valedictorian Stacey Elder of Richmond, who had a perfect 4.0 GPA in earning a bachelor of science degree in management, and Aicha Camara who was this year's winner of the annual Reginald F. Lewis Prize that is awarded to a senior in the VSU College of Business. Ms. Camara was presented with a plaque and a check for $1,000.
Retired Lt. Col. Darryl W. Sharp Sr. received the Virginia State University Alumnus of the Year Award.
"We are proud to call you grads, scholars and Trojans," VSU President Dr. Makola M. Abdullah told the graduating class. "In the words of The Temptations, 'Get ready 'cause here they come!' "