VSU grads receive uplifting messages at 2 commencement ceremonies
Sen. Jennifer McClellan 'Accomplish your goals without being afraid to fail'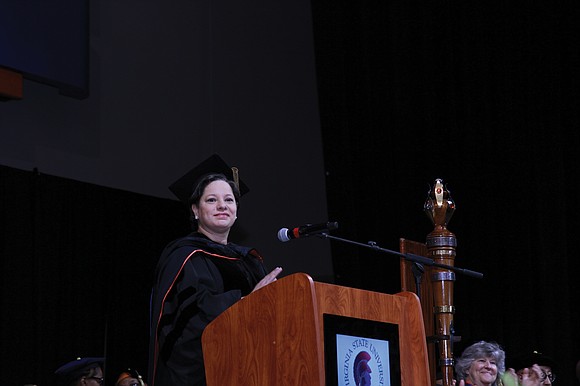 State Sen. Jennifer L. McClellan literally returned home when she delivered the address at the first of two separate commencement exercises Sunday at Virginia State University.
With 628 degrees to confer, VSU officials held morning and afternoon ceremonies to accommodate the large numbers of graduates, their families and friends at the VSU Multi-Purpose Center. While Sen. McClellan spoke at the morning exercise, Congresswoman Lucy McBath of Georgia gave the afternoon address.
During her talk, Sen. McClellan said her first steps toward success began in 1969 at VSU, where her father was a professor and her mother worked as a counselor.
"I lived in faculty housing, went to nursery school in the basement of Gandy Hall, attended kindergarten and first grade in what is now the bookstore, and when my father taught classes, I would pretend to teach classes in another room," she told the more than 300 graduates. "So my history here with VSU is long."
The 46-year old mother of two did, however, apologize for later earning her bachelor's degree at the University of Richmond and a law degree from the University of Virginia.
"To tell the truth, I would have come here, but what 18-year old wants to attend college where both of their parents work?" she said to laughter.
Sen. McClellan then talked to graduates about the need for flexibility with regard to their future plans and to embrace what she called the most important lesson of all — having the courage to fail.
"I know that sounds odd on this day when we are here recognizing and celebrating your success," the Richmond Democrat told the class. "But you will need the courage to fail in order to succeed going forward."
To illustrate her point, she named several pop icons who persisted through failure to reach monumental success, including basketball star Michael Jordan, who was cut from his high school basketball team; Oprah Winfrey, who was fired from her first television job; and
Jay-Z, who couldn't secure any interest from record labels and had to produce his first album and sell it out of the trunk of his car.
"Likewise, you will need to go out and accomplish your goals without being afraid to fail," she said.
Sen. McClellan told the audience her test came when she decided to veer away from her intended path of working hard, making lots of money, getting married and retiring early. Instead of remaining rigid to her plan, she followed her calling and ran for public office.
"It was the decision I needed to make if I were going to be a force for change," Sen. McClellan said.
The risk paid off as she won her first election in 2005 to the Virginia House of Delegates, where she represented portions of Richmond and Henrico County for 11 years. Then in January 2017, she was elected to the state Senate, where she has earned a reputation for being an effective and accessible leader. She has worked to improve public education, break the school-to-prison pipeline, launch criminal justice reforms and combat domestic and sexual violence.
She encouraged graduates to not only seek personal fulfillment, but to address the current discord in America characterized by police brutality against African-Americans, school and church shootings, white supremacist agendas played out in Charlottesville and a president who boldly defames African nations and others.
"No one would blame you if you looked inward, if you chose to focus only on yourself and your own security," Sen. McClellan said. "But don't do that."
Acknowledging her message and long history with the university, VSU President Makola M. Abdullah rectified Sen. McClellan's non-degree status with the HBCU by presenting her with an honorary degree.
Delegate Lashrecse D. Aird of Petersburg, a 2008 graduate of VSU, introduced Sen. McClellan at the ceremony. The 32-year-old who represents Petersburg and portions of Chesterfield, Dinwiddie, Hopewell and Prince George, was the youngest woman ever elected to the Virginia House of Delegates in November 2015. She served as VSU's 2016 commencement speaker.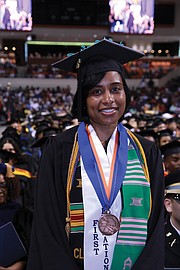 Also recognized at the morning ceremony were Tiffany Monique Tucker of Dinwiddie County, the highest ranking senior in the Class of 2019, who had a perfect 4.0 GPA in earning a bachelor's in business management with a concentration in human resources management.
Deloris Gregory Jordan, a former public schoolteacher and retired manager with the U.S. Department of Defense's Commissary Agency at Fort Lee, received the VSU Alumnus of the Year Award for her support of the university through VSU's Greater Petersburg Area Alumni Association and as a life member of the National VSU Alumni Association. She is a 1969 graduate of VSU and earned her master's from VSU in 1973.