Dance, Warner to speak at fall commencements
Free Press staff report
State Sen. Rosalyn R. Dance of Petersburg and U.S. Sen. Mark Warner will be the featured speakers at fall commencements at area universities.
Sen. Dance will speak at the ceremony at her alma mater, Virginia State University; Sen. Warner will speak at Virginia Commonwealth University's commencement ceremony.
A member of the VSU Class of 1986, Sen. Dance also will be awarded an honorary doctor of humane letters during the campus ceremony, it has been announced.
Time: 9:30 a.m. Saturday, Dec. 12.
Location: Daniel Gymnasium on the Ettrick campus.
VSU expects to award degrees to 400 undergraduate and graduate students who have completed their course requirements, according to a school statement.

Along with Sen. Dance, the school's outgoing interim president, Pamela V. Hammond, also is to be presented with an honorary doctor of science degree. Dr. Hammond is to leave office at the end of January after 13 months of guiding the school.
Sen. Dance, 67, is being recognized for her long career in public service according to the school, including previous service as a member of the House of Delegates and as Petersburg's mayor for 12 years.
During her tenure as mayor, she is credited with helping to secure the Appomattox Regional Governor's School and to create the Southside Regional Medical Center.

 She later represented the area in the House of Delegates and, in November, she was elected to her first full term as the representative for the 16th Senate District, which stretches from Richmond's East End to the Petersburg area.
Among other things, she helped VSU secure $950,000 in increased student aid during the 2015 General Assembly session.
She also earned a master's degree in public administration from VCU.
At VCU's fall commencement, three people will receive special awards at the ceremony.
Time: 10 a.m. Saturday, Dec. 12
Location: VCU's Siegel Center, 1200 W. Broad St.
William L. "Bill" Murray and Jean Hovey will receive the Edward A. Wayne Medal that honors individuals who have made outstanding contributions or provided exemplary service to the university.
Dr. Sheldon M. Retchin, a health policy expert who led the effort to build VCU's new Children's Pavilion, will receive the Presidential Medallion for his outstanding contributions to the university community.
Dr. Murray is the managing director of public policy for Dominion, and served as legislative director for former Gov. Tim Kaine and as deputy director of policy for Sen. Warner when he was governor.
Ms. Hovey, a consultant, conducts evaluation and policy research and analysis. She also volunteers as a mental health advocate.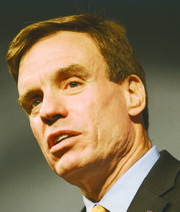 Dr. Retchin served as senior vice president for health sciences at VCU and CEO of VCU Health System from 2003 until early this year, when he left to become executive vice president of health sciences at Ohio State University and CEO of its Wexner Medical Center.
Sen. Warner, 60, was elected in November 2014 to a second term representing Virginians in the U.S. Senate, where he serves on the finance, banking, budget and intelligence committees.
A native of Indianapolis who grew up in Illinois and Connecticut, Sen. Warner earned an undergraduate degree from George Washington University and a law degree from Harvard University.
The millionaire businessman managed L. Douglas Wilder's successful campaign for governor in 1989 and was chair of the Virginia Democratic Party in the early 1990s before launching his own successful campaign for governor. He served as Virginia's 69th governor from 2002 to 2006 and was chair of the National Governors Association in 2004-05.