Fallout continues over Short Pump Middle School graphic locker room video
11/3/2017, 1:14 a.m.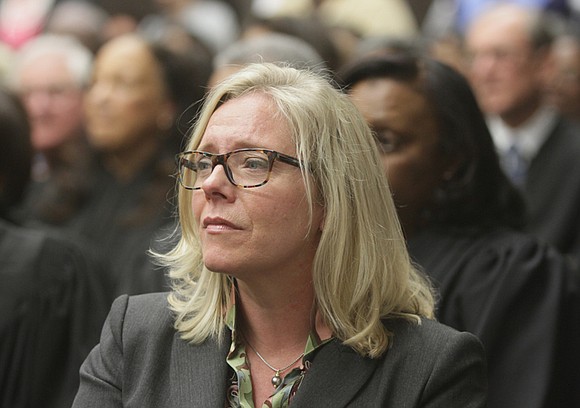 By Saraya Wintersmith
An assistant athletic coach at Henrico County's Short Pump Middle School has been fired and parents of some students are obtaining lawyers since the release on social media of a graphic video showing white football players on the middle school's team simulating sex acts on at least two black teammates while shouting racist comments.
Andy Jenks, spokesperson for Henrico County Public Schools, confirmed that the coach was fired, but would not say whether the termination was a direct result of the incident that took place in the Western Henrico school's locker room.
The video, apparently filmed by perpetrators, was posted to Snapchat on Friday, Oct. 13.
Parents are angered that school system officials learned about the video on Monday, Oct. 16, but never issued a statement or notified parents until after a Richmond television station broke the story days later on Oct. 18.
Henrico County Commonwealth's Attorney Shannon L. Taylor announced last week that her office is conducting a criminal investigation in conjunction with the Henrico Police Department.
Henrico schools officials have declined to say whether any students involved in the lewd and racist video have been suspended or expelled because of student privacy laws. But Henrico School Board member Michelle F. "Mickey" Ogburn, who represents the Three Chopt District that includes Short Pump Middle School, said the school system's strict code of conduct "was applied immediately."
One parent said last week that three members of the team were suspended, but that could not be confirmed by the Free Press.
School district officials said the team would forfeit the remaining three games of the season and that players would be required to attend practices that include workshops on racial tolerance and ethics.
Frank J. Thornton, president of the Henrico Branch NAACP, told the Free Press that he's in touch with families of several victims and they are now "securing legal counsel."
At a heated public meeting held last week by Henrico officials at the middle school, more than 400 people packed the auditorium that was rocked by outrage expressed by parents and community members.
Many of the nearly two dozen speakers criticized Henrico officials for disregarding incidents of racism and bullying. Many felt the Short Pump Middle School video only served to highlight a raft of issues plaguing the school system, among them, a lack of accountability for incidents of racism and bullying, the need for sexual assault education and poor communication.
Several parents indicated they would take action to remove School Board members if they fail to make appropriate policy changes in light of the most recent event.
Ngozi Ibe said this isn't the first time her family has heard of such issues in Henrico schools.
"I've been involved in multiple discussions both online and in person, and the common thread is that there is a systemic problem of racism and bullying at Short Pump Middle School that is not being addressed," she said to applause.
Ms. Ibe, who has two children at Short Pump Middle School, said one was the victim of a "racial incident" at the school last year. She said she was not satisfied with how the school dealt with it.