Fallout continues over Short Pump Middle School graphic locker room video
11/3/2017, 1:14 a.m.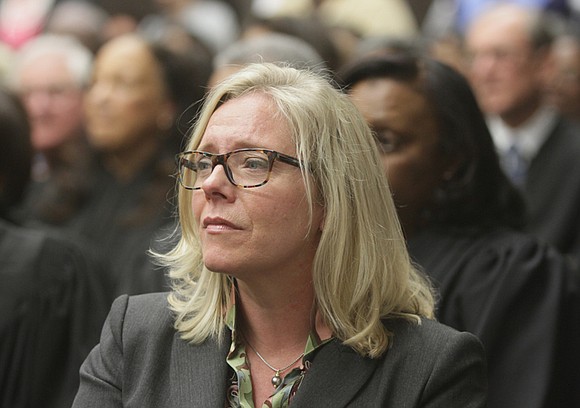 "You will have to find a middle ground between which you can maintain your privacy requirements, but still keep the community, the student body and parents informed," Ms. Ibe told school officials.
Another Short Pump Middle School parent, who is African-American, talked about how white students made whipping noises and motions behind her daughter's back and called her a slave as she walked down the halls.
Another parent raised questions of whether Henrico has a policy regarding students using camera phones in private areas such as school locker rooms and bathrooms.
Cheri David, who identified herself as the parent of one of the Short Pump Middle School football players, read a statement from "Concerned Football Puma Parents" noting the existence of other videos showing boys of various racial backgrounds behaving badly.
"We've seen videos — unedited videos — and we are here to tell the truth," she said, adding that limited portions were posted to social media.
She was shouted down by indignant parents who accused her of trying to spin the incident.
Parents also expressed disapproval at finding out about the incident from the news media rather than school officials, and said they were concerned about whether any action will be taken.
"I would like to think that we can come up with a better plan for communication in the future," said parent Sally Martin. "If we can know within 24 hours if someone in my child's classroom has lice, I don't understand why we can't know if there is a crime that's committed around our children," she said to applause.
She said students know about incidents at school "and they need our help to process it so they're not acting it out."
Ms. Martin also invited the audience to join a Facebook group, Stand Together RVA. The group, which has since changed its name to Parents Advocating for Communication and Equality in Schools, or P.A.C.E.S, is now circulating a Change.org petition, and organizing a push for several policy changes within the school district.
"Generally we want to be proactive about what is going on in the schools," Mr. Jenks said following the meeting. "But when you're talking about student disciplinary issues, schools have to be very careful."
In this case, he continued, "an appropriate response is to immediately and swiftly address it with the individuals involved as well as their families," he said, adding that school district leaders will use feedback from the meeting to formulate a plan to address the community.