Lt. gov. candidates hoping to win votes
11/3/2017, 12:42 a.m.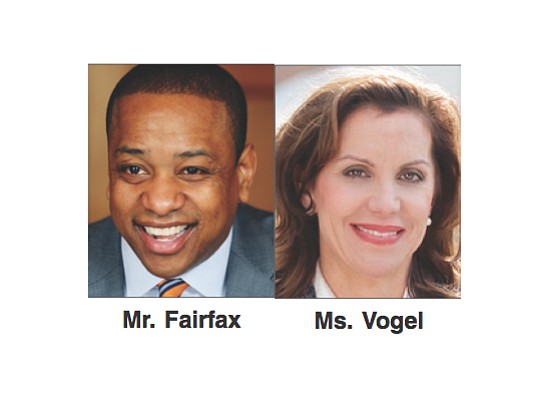 By Saraya Wintersmith
The two major party candidates seeking to become Virginia's next lieutenant governor are hoping to make their mark in history.
If elected, Democrat Justin E. Fairfax would be the second African-American to hold the post since 1985, when then-Virginia Sen. L. Douglas Wilder was elected.
If elected, Republican Jill H. Vogel, a state senator from Winchester, would become the first woman to win the post since the office became a popularly elected position through a Virginia Constitution change in 1851.
While the lieutenant governor's position is widely regarded as a stepping stone to Virginia's highest executive office, whoever wins on Nov. 7 would have the power to sway legislation during the next four years.
In addition to serving as acting governor, sitting on various boards and presiding over the state Senate, the lieutenant governor breaks ties on bills before the Senate. With the composition of the Senate now at 19 Democrats and 21 Republicans, the next lieutenant governor likely will play a vital role in critical and controversial issues that arise.
Both Mr. Fairfax and Sen. Vogel are attorneys. Mr. Fairfax, 38, is a former federal prosecutor who works in the Northern Virginia office of Venable LLP law firm. Sen. Vogel, 47, is managing partner at Holtzman Vogel Josefiak Torchinsky PLLC, a law firm that specializes in election finance and ethics law. She also served as deputy general counsel at the U.S. Department of Energy under President George W. Bush.
Both are running campaigns that emphasize their up-by-the-bootstraps success stories.
On the campaign trail, Mr. Fairfax has said he wants to grow Virginia's economy by supporting proposals including a higher state minimum wage and increased capital investment. Sen. Vogel has also said growing the economy and increasing capital investment is a priority, but she said she wants to do it by creating a climate favorable to businesses without raising taxes.
On gun policies, the two differ.

During a candidates' debate in early October, Mr. Fairfax called for tougher gun control measures, including universal background checks for gun purchasers, banning high-capacity magazines and alluded to reinstating the one-handgun-a-month purchase law that was repealed in 2012 by the Virginia General Assembly.
At the same debate, Sen. Vogel stressed that she doesn't want to "take anyone's gun rights away" or impair the abilities of law-abiding citizens to defend themselves.
Both candidates' websites detail their ideas on education.
Mr. Fairfax favors reform to Standards of Learning testing and expanded access to early childhood education. He also supports restructuring the state system for allocating student loans to put less of a burden on Virginia students.
Sen. Vogel supports proposals that provide for public education alternatives, including charter schools and education savings accounts that allow parents who withdraw their children from public schools to redirect a set amount of public funds toward their preferred education system.
Regarding health care, Mr. Fairfax, a pro-choice candidate with backing from Planned Parenthood, supports Medicaid expansion despite it being a non-starter among General Assembly Republicans for the last four years. He also has indicated support for a "Medicare-for-all" health care system, although he hasn't said that he will advocate for a single-payer health care system as lieutenant governor.
Sen. Vogel, who describes herself as an advocate for women's health, has come under fire for sponsoring a bill in 2012 that would have required women to have a transvaginal ultrasound before an abortion. Sen. Vogel maintains that the bill, which was replaced with one that allowed for less invasive ultrasounds, was merely an informed consent bill meant to codify a standard of care.
She also defends the Republicans' efforts not to expand Medicaid in Virginia, pointing to its potential effects on the state budget.
Mr. Fairfax heads into the final stretch with a slight advantage in cash on hand, according to Oct. 15 campaign finance reports. During the filing period, his campaign team indicated an ending balance of $568,304. NextGen Climate Action, an environmental policy PAC, with in-kind donations totaling $87,384, and several individuals are among his top donors.
Sen. Vogel ended the same period with a balance of $168,493 cash on hand. Among her top donors are Altria, $25,000, and the Virginia Hospital and Healthcare Association, $10,000.