Lt. gov. debate draws final fire
10/12/2017, 10:36 p.m.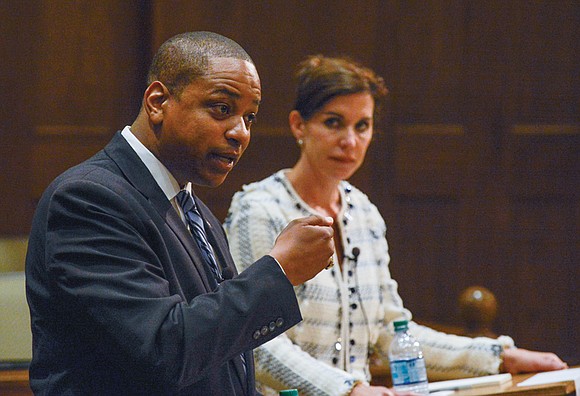 By Saraya Wintersmith
Sharp and often heated remarks about abortion, education and guns and health care dominated the lieutenant governor candidates' final debate Oct. 5 at the University of Richmond.
Democrat Justin Fairfax and Republican state Sen. Jill Vogel wasted little time in addressing each issue during the hourlong event that was moderated by Dr. Bob Holsworth, a longtime political analyst, and CBS 6 anchor Bill Fitzgerald.
When asked about her 2012 bill that would have required certain women, depending on their state of pregnancy, to have transvaginal ultrasounds before an abortion, Sen. Vogel insisted the measure was intended to "codify a standard of care" that helps doctors determine gestational age and decide what procedure a woman will have. The bill captured widespread attention before being withdrawn.
Mr. Fairfax characterized the bill as an unnecessary attempt to "shame women" exercising reproductive health care rights. Sen. Vogel accused Mr. Fairfax of using the issue as a diverting tactic throughout the campaign.
"There are other issues that he could talk about, but I clearly think he is not informed enough on those issues to talk intelligently about them," she said. "I fundamentally believe that he misunderstands the subject matter."
Mr. Fairfax then dodged inquiries regarding his positions on other issues such as pending pipeline projects, his refusal to accept political donations from Dominion Energy, and his support for Bernie Sanders' Medicare goals.

"What we can expect is for Sen. Vogel to keep going in the gutter," he said, using his response time to draw attention to Sen. Vogel's campaign strategies. "She came out of her primary with her main competitor threatening to sue her for defamation. This is the kind of politics that she engages in."
The candidates were asked to defend their positions on state gun policy in light of the recent mass shooting in Las Vegas.
Calling the event an unspeakable and criminal tragedy, Sen. Vogel, who has received endorsements from both the National Rifle Association and the Virginia Citizens Defense League, said the massacre speaks to issues that aren't necessarily related to gun laws, but are related to mental health. She insisted she would tread cautiously when considering Second Amendment restrictions as lieutenant governor.
"If you restrict people's gun rights, it does violate the constitution," Sen. Vogel said. "Taking people's gun rights away does not restrict gun violence in the way that people believe it will."
Mr. Fairfax, who accused his opponent of using leaked talking points from the Trump administration, described the Las Vegas shooting as a "moral tragedy" and an indicator that action must be taken to protect citizens.
"Sen.r Vogel said that restricting someone's gun rights is violative of the constitution. That's patently false," he said. "All of our rights in the constitution, we support and believe in, but there are restrictions on all of them when they are in the best interest of the safety and the health of our citizens."
Mr. Fairfax added that he supports universal background checks and a ban on high-powered assault weapons.