NSU freshman shot, killed off campus
11/3/2017, 2:01 a.m.
Nicholas Jerome "Nick" Ackies, an 18-year-old freshman defensive lineman from Henrico County on the Norfolk State University football team, was shot and killed Friday, Oct. 27, at an off-campus apartment in Norfolk.
NSU graduate Jaquan Anderson, 22, a former Spartans football player, has been arrested and charged with second degree murder and use of a fireman in commission of a felony.
Anderson, who played football at Chesterfield County's L.C. Bird High School before enrolling at NSU, is being held without bond at the Norfolk City Jail.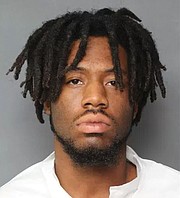 Authorities said emergency dispatchers received a call shortly after 6 p.m. Friday, Oct. 27, about gunshots in the 800 block of Hayes Street. When police arrived, they found Mr. Ackies inside an apartment. He was pronounced dead at the scene.
Anderson's address was listed as the same block where the slaying occurred.
Ackies was a standout, all-round athlete at Douglas Freeman High School in Western Henrico County. He earned Class 5A All-Region and All-State honors in football as a senior at Freeman while also lettering in basketball and baseball.
Listed as a 6-foot-2, 265-pound defensive lineman at NSU, Ackies wore the No. 75 jersey and was majoring in criminal justice. He played in three games this season for NSU before being sidelined with an injury.
The fatal shooting occurred the night before NSU's Saturday, Oct. 28, homecoming game against Savannah State University. Ackies was honored in a moment of silence prior to kickoff before a crowd of 17,218 fans.
NSU lost 27-9 to previously winless Savannah State. Just a week earlier, the Spartans recorded a big win by upsetting defending MEAC champ North Carolina Central University 28-21.
"It's probably going to be a tough couple of weeks for these guys," NSU Coach Latrell Scott told the media following the game. He met the media alone and did not make the players available.
"This is such a tragic situation," Marty Miller, NSU's athletic director, said in a statement. "Our prayers are with Nick's family during this very difficult time."
This is the second shooting to impact the NSU football program this year. In June, incoming freshman Dy-Shawn Simpkins Jr., a defensive back, was shot to death in East Orange, N.J.