St. Luke Building tagged with graffiti
11/3/2017, 1:10 a.m.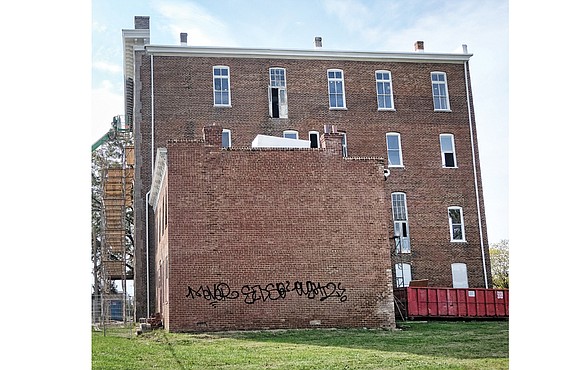 The Department of Public Works' permit is to allow an overhang over the building's front door. The overhang has been in place since the building was constructed more than 110 years ago. The permit is required because the overhang is above a city sidewalk.
"We were told to submit the applications for the permit, but were informed that it likely would not be looked at for 18 months, but just would be put in a file," Ms. Stallings said.
"Now the application is being returned because supposedly it is not detailed enough," she said. "We have a competent architect on our team, and that application was properly filled out. It's just a new effort to stop us, and no one can figure out why."
Mr. Olinger stated that the problem with the encroachment permit would not halt a building permit, but he added that the St. Luke team needed to work with Public Works to "assure the application is complete."
City Council President Chris A. Hilbert also has been harshly critical of the city's handling of the St. Luke project.
In an article in the Oct. 26-28 edition of the Free Press, he said that Mr. Olinger's staff misplaced the application for three months and then began dribbling out requirements piecemeal.
Mr. Hilbert said such actions create problems for people who create jobs and tax revenue for the city and help boost the city's overall economy.