VUU's ground game remains dominant despite losses
Fred Jeter | 10/13/2017, 12:51 a.m.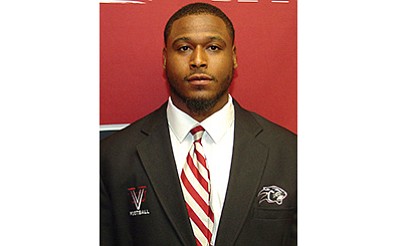 Virginia Union University seems to have explosive running backs lined up like jets on the runway awaiting takeoff.
Arron Baker is the latest to get the "go" sign from Panthers' Coach Mark James.
"Arron definitely came out of his shell. He had a great game," Coach James said of Baker following the Panthers' 45-23 win at Lincoln (Pa.).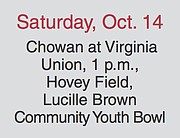 Baker, a bruising 240-pound graduate transfer from Alcorn State, made the most of his 10 carries, rambling for 137 yards and featuring a 47-yard touchdown.
VUU, with three straight wins, is now 4-2 overall and 3-0 in CIAA.
Now comes the sticky part.
"This is where the rubber hits the road," Coach James said.
Chowan embarrassed VUU, 54-21, last year in Murfreesboro, N.C., in a game in which the Panthers' defense couldn't stop the run or pass.
After Chowan comes defending Northern Division champ Bowie State, and then two other teams that beat the Panthers a year ago, Elizabeth City and Virginia State.
"We know what's awaiting us," Coach James said.
The Panthers' ground game has been dominant despite the loss of 2016 standout William Stanback, who rushed for 1,299 yards and 15 touchdowns and signed with the NFL Green Bay Packers.
Not to worry, VUU has showcased four leading rushers this season, including quarterback Darius Taylor in the loss to Winston-Salem.
Tabyus Taylor ran for 121 yards in the opener against LIU-Post and for another 109 against Newberry before being sidelined with an ankle injury. He is expected back within the next two weeks.
Rodney McKay, a quicksilver freshman from Florida, was a top ground gainer against Fayetteville.
Baker led the way on the ground push the last two weeks in matches with St. Augustine's and Lincoln.
Like many of the Panthers, Baker is both a Floridian (Belle Glade) and a transfer (Alcorn).
He comes with a glossy résumé. In 2014, Baker rushed for 13 touchdowns in helping Alcorn win the SWAC title and the Black College National Championships, as selected by SBN and Boxtorow.
In three seasons at the FBS school in Mississippi, Baker ran for 1,453 yards and is the Braves' 13th all-time rusher. He had 134 yards in a game last season against Grambling.
In what will be his only season at VUU, he leads with 413 yards (5.4 average) and five TDs.
McKay has 276 yards and a 5.9 average. Tabyus Taylor has 232 yards (9.6 average) in just two outings.
Defensively, sophomore safety Sterling Hammond continues to make game-turning plays.
The former All-State performer at Essex High recovered a fumble he returned for a 17-yard TD at Lincoln. In each of his three previous games, Hammond had interceptions.
James goes so far as to compare Hammond to former VUU great Pete Hunter, who became the Dallas Cowboys' fifth round draft choice in 2002.
Like Hunter (a Division II All-American), the 6-foot-1, 210-pound Hammond is a large, physical defensive back who also plays on special teams.