VUU pulls out a win in last 21 seconds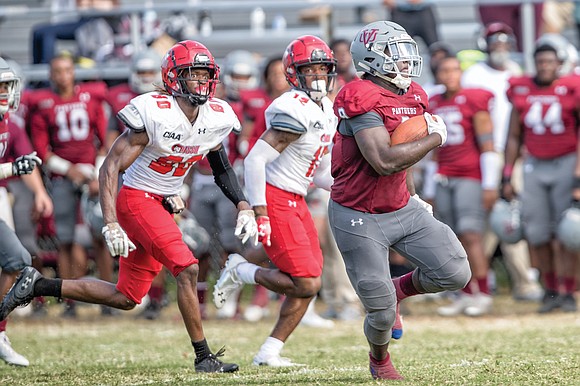 The Virginia Union University Panthers have played like Houdini in their last two outings, escaping disaster on their home field.
This Saturday, Oct. 5, the Panthers hope to take that magic to Livingstone College in Salisbury, N.C., in a battle of CIAA championship contenders.
In sports jargon, there's winning by a nose, by a hair, even by a split second.
In defeating Winston-Salem State University last Saturday, VUU won by an instep — that of soccer-style kicker Jefferson Souza.
The final score: 16-15.
The Brazilian born Souza booted three field goals during the game at Hovey Field, most dramatically a game-winning 25-yard field goal with a mere 21 seconds left.
VUU fans are getting accustomed to being nervous.
The week before, the heavily favored Panthers weren't assured victory over Johnson C. Smith University until Sterling Hammond's interception and touchdown return in the game's closing minute.
Jarrett Sumiel was the Panthers' late-game defensive savior against Winston-Salem State. The defensive back from Westmoreland blocked a Rams punt with 1:52 to go and recovered on the Winston-Salem State 19-yard line.
That set up Souza's decisive kick that pushed VUU's record to 3-1 overall and 1-0 in the CIAA.
Tabyus Taylor led the Panthers' ground-and-pound running game with 76 bullish yards. The junior from Hopewell also caught two passes for 30 yards and returned a kickoff for 58 yards.
Panthers quarterback Khalid Morris hit 11 of 14 passes for 114 yards and a touchdown to former Highland Springs High star Jaiden Reavis.
Tyrone Glanton and Hammond spearheaded the Panthers' defense against Winston-Salem State. Glanton, a graduate student from Miami, was in on eight tackles and has 31 stops for the year.
Hammond, arguably the CIAA's top NFL prospect in years, had seven tackles against the Rams and has 40 for the season.
Like VUU, upcoming opponent Livingstone College also is enjoying life on the gridiron. The Blue Bears are 4-0, with wins over Chowan University, Elizabeth City State University, Allen University of Columbia, S.C., and most recently a 35-19 victory over Lincoln University.
Livingstone travels best by the arm of quarterback Miles Hayes. The Miami native has hit 68 percent of his passes. He averages 204 yards through the air with eight touchdowns.
Livingstone appears to be on the uptick under fifth-year Coach Daryl Williams. The Blue Bears were 0-10 in 2017 and 3-6 a year ago, including a 52-19 loss to VUU at Hovey Field.
Livingstone's only CIAA titles came back to back in 1997 and1998, while VUU has won 11 CIAA crowns, most recently in 2001.
This is a pivotal game for both teams. With tough schedules looming, both need a victory to remain viable candidates for the CIAA championship game in Salem.

On the road again
Saturday, Oct. 5:
Virginia Union University plays Livingstone College at Livingstone's Alumni Memorial Stadium in Salisbury, N.C.
Kickoff: 1 p.m.
Game to be broadcast on WNTW, 92.7 FM.