Can the VUU Panthers claw their way to victory over the Bowie State Bulldogs?
Fred Jeter | 10/25/2019, 6 a.m.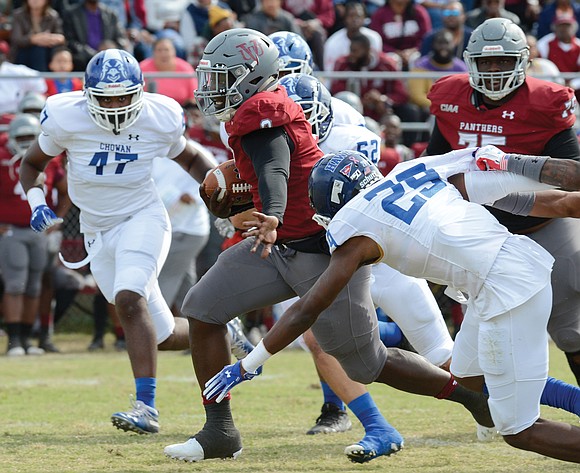 If Bowie State University is the tower of power in the CIAA Northern Division, then Virginia Union University hopes to play the role of wrecking ball.
VUU Coach Alvin Parker's Panthers have a full tank of momentum heading to Bowie State on Saturday, Oct. 26, for a climactic collision with the dreaded Bulldogs.
VUU will go to Maryland with a five game winning streak and soaring hopes of a long-overdue CIAA Northern Division title.
The Panthers' latest victory was a come-from-behind 41-34 homecoming win over Chowan University before a crowd of more than 8,000 fans at Hovey Field on the VUU campus.
In ousting the Hawks, VUU relied on its "Area 804" trio of running back Tabyus Taylor from Hopewell, quarterback Khalid Morris from Chester and wide receiver Jaiden Reavis from Highland Springs.
Local recruiting is paying dividends.
Taylor rushed for 120 yards and two touchdowns and caught five passes for another 82 yards and a touchdown.
Morris passed for 273 yards and two touchdowns.
Reavis caught eight passes for 107 yards and two scores.
Defensively, standout safety Sterling Hammond returned after a one-game absence. The ready-to-rumble senior from Essex High School had nine tackles, including 2.5 for losses. He also had a sack and forced a fumble.
On a down note, star kicker Jefferson Souza did not play for unspecified reasons. The native Brazilian is 13-for-14 on field goals and a reliable weapon in Coach Parker's attack.
VUU has averaged 35 points per game this season and hasn't lost since Sept. 14 to undefeated Lenoir-Rhyne University that is ranked No. 6 nationally.
Bowie State, ranked 16th in the NCAA Divi- sion II and fourth in Region 2, represents a major challenge for a rising VUU program that has gone 14-3 in two seasons under Coach Parker.
During the last five seasons, Bowie State is 42-12 overall and 28-4 against CIAA opponents.
This season, the Bulldogs are 7-0 following a 24-14 win at Virginia State University last Saturday.
Last year, Bowie State de- feated VUU 27-13 at Hovey Field, foiling the Panthers' post-season ambitions.
A loss this Saturday at Bowie State would seriously cripple the Panthers' current goals of taking the next step to the CIAA Championship game in Salem and to the NCAA playoffs.
A victory would provide a huge boost for CIAA and even national recognition.
Still, VUU faces road tests at Elizabeth City State University and Virginia State University before it could begin to make reservations for Salem.
Should VUU defeat Bowie State, and then VSU defeat VUU, it would likely create a three-way tie for first place in the CIAA Northern Division. A series of tiebreakers would determine the champ.
A year ago, the Panthers felt like they were all dressed up with nowhere to go.
This season, hopes are high of going further, but the Panthers may have to topple the tower to do it.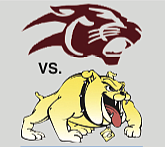 Saturday, Oct. 26
Virginia Union University plays Bowie State University in Bowie, Md. Kickoff: 1 p.m. Game to be broadcast on WNTW radio.