4 contenders in open sheriff's race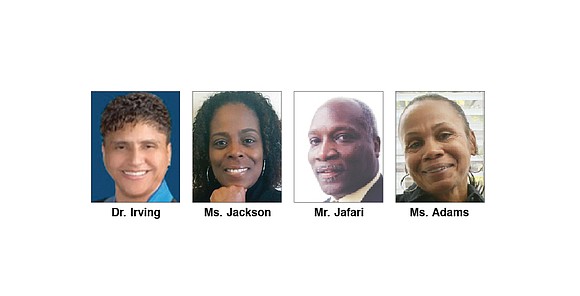 Four months ago, Antionette V. Irving made the headlines with her stunning upset of longtime Richmond Sheriff C.T. Woody Jr. in the Democratic primary.

Since her June 13 primary victory, Dr. Irving has been rushing to meet voters to translate her new status as the Democratic nominee into a win at the polls on Election Day, Tuesday, Nov. 7.
A retired major with the Henrico County Sheriff's Office who holds a Ph.D. in business administration, Dr. Irving is the favorite to win the post in a city where the majority of voters label themselves Democrats.
Still she is facing three independent challengers who each want to win the $148,000-a-year-position of managing the Richmond Justice Center, or city jail, overseeing delivery of legal papers in civil cases and providing security at city courthouses.
The names of two of Dr. Irving's challengers will be on the ballot along with her. They are Nicole D. Jackson, a former major in the Richmond Sheriff's Office, and Emmett Johnson Jafari, a businessman who has previously sought local office.
Former Richmond Police Sgt. Carol D. Adams, who left the department this month to run a write-in campaign for sheriff, is the third challenger.

Dr. Irving is promising a "new era of integrity, compassion and professionalism" in the office if voters elect her and to focus on equipping Justice Center inmates with the resources for a successful re-entry into the community after serving their time.
She said she would review programs Sheriff Woody installed during his 12 years, but supports the approach he has taken and would seek to build on his effort to provide programs to help inmates overcome addiction, connect with work, complete high school, improve ties with their children and families and, for those who need it, connect with mental health services.
Ms. Jackson is promising "transparent, responsible and accountable leadership" if she is elected. A 22-year veteran of the city Sheriff's Office, she plans to beef up training for deputies through partnerships with outside agencies.
She also would maintain most of the programs Sheriff Woody put in place, viewing them as the kind of positive approach to dealing with inmates that she supports.
If elected, Mr. Jafari promises to install "best practices" at the jail to correct problems that he believes developed on Sheriff Woody's watch, but he does not offer specifics.
Meanwhile, Ms. Adams is promising to provide leadership that will set a "new standard of excellence in the management of jail operations" in her long-shot campaign to get people to write in her name on the ballot.