Show the world a new Richmond
10/27/2017, 6:50 a.m.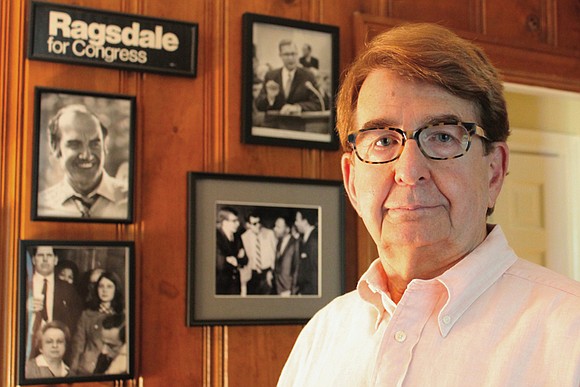 Ben Ragsdale
Commentaries
I was fortunate to come of age as the Civil Rights Movement was coming to a climax in the 1960s. As an observer and participant, and later an amateur historian, I was witness to the destruction of Jim Crow. I know why local officials put the statues on Monument Avenue and what they still represent.
Some, trying to sound reasonable, say we can use the statues to help tell the awful truth about Virginia's oppressive past. I say that the statues have held these Confederate leaders in awe for nearly 130 years. Their stain cannot be erased. They cannot be repurposed at their present site.
The statues are about history denied. Current public comment has skipped lightly over our evil past of slavery and ignored the record of those public officials who installed the statues — a racial hierarchy determined to keep African-Americans poor and politically powerless that reigned from the end of Reconstruction through the 1960s.


It's no fluke that, from Reconstruction until the 1967 election of Dr. William Ferguson Reid, there was not one black representative in the Virginia General Assembly. The 1901-1902 Virginia Constitutional Convention sought to end black people's participation in elections by removing them from local voter lists, imposing an arbitrarily applied literacy test, a poll tax (payable three years in advance) and requiring answers to whatever questions white local voter registrars dreamed up. Ninety percent of black voters were driven from local voter lists by 1904.

Jim Crow government also segregated public and commercial interactions between black people and white people whenever possible. Demeaning "White" and "Colored" facilities were pervasive. Equal services were denied. In 1960, I watched in awe as first the North Carolina A&T State University students in Greensboro, N.C., then Virginia Union University students in Richmond and others across the South, defied the law, sitting-in at lunch counters and restaurants. Local activists fought to have Downtown stores hire black clerks and even to allow black customers to try on hats as the white customers did. Richmonders remember.

Perhaps most egregiously, the Jim Crow government that ruled Virginia for at least seven decades funded and administered cruelly disparate school systems for black citizens across Virginia, permanently hindering opportunities for generations. You can ask iconic Richmond political leader Henry L. Marsh III, who, to attend elementary school in rural Isle of Wight County, walked 5 miles each way to his one-room school with one teacher for seven grades and 76 students. County buses to the nearby larger and much better resourced white school passed him by each day. Later, Mr. Marsh and his law partners, Oliver W. Hill Sr. and S.W. Tucker, litigated cases across Virginia for 20 years to implement school desegregation decrees which began in 1954.

Our community is still rich today with women and men who survived — and frequently excelled — in schools that were purposed by white leaders to raise second class citizens.

This is the history relevant to the symbols on Monument Avenue. There is much more.
The statues do not honor ordinary soldiers, but those who led the fight to advance a new slave-holding nation and those who imposed post-Reconstruction apartheid in Virginia.

Of course past events cannot be erased. But public memorials express contemporary values. In our time, when our values have changed so dramatically, we must make clear to the world that the city of Richmond stands for equality and respect for each individual and that those symbols on Monument Avenue do not represent who we are.

The writer was a civil rights volunteer in Virginia in the 1960s. He coordinated the Virginia Civil Rights Movement Video Initiative oral histories, which are available at Virginia Commonwealth University's Cabell Library, the L. Douglas Wilder Library and Learning Resource Center at Virginia Union University and the Virginia Historical Society.