Public comment sought on new location for police stables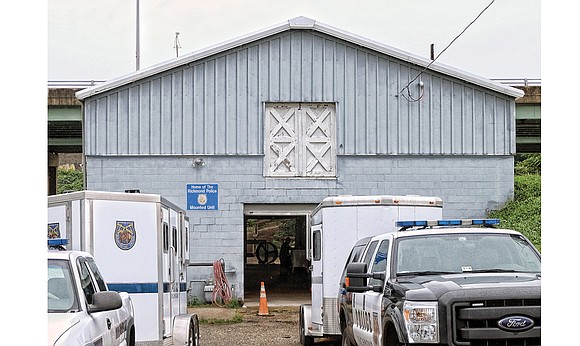 Glenwood Burley once again is seeking the public's help for Richmond Police.
This time, the retired police officer wants people to offer their views on a site for a new regional stable for police horses. The new site would replace the city's old stables on Brook Road near Gilpin Court in North Side.
Mr. Burley has a list of 14 sites and wants city residents to weigh in to help decid the best location.
Richmond City Council has allocated $778,000 to pay for new stables, but the site is still up in the air after the initial site in North Side turned out to be a former landfill and was ruled out.
Best known for leading the successful effort to relocate a statue paying tribute to fallen police officers to Byrd Park, Mr. Burley is chairing the effort to replace the stables that have remained in use for the city's four police horses despite being condemned 16 years ago.
The stables relocation committee includes Richmond Police Chief Alfred Durham and the chiefs of two departments seeking to start mounted units, Chief Steve Pike of the Capitol Police and Chief John Venuti of the Virginia Commonwealth University Police Department.
The committee also includes Leslie Buck, president of the Friends of the Richmond Mounted Squad, which has long advocated for new stables.
The list of potential sites the committee has come up with include: Bryan Park in North Side, Byrd Park in the West End, Chimborazo Park in the East End and Forest Hill Park in South Side.
Also, Fulton Gas Works in the East End, a Gillies Creek city-owned site off of Crestview Road in the East End; a Henrico County storage facility at Brook Road and Wilmer Avenue; and Goode Creek near Lynhaven and Concord avenues in South Side.
Also, Maury Street, between the railroad tracks and Interstate 95 in South Side; Osborne Turnpike in Henrico County; Altria property in South Side near the Chesterfield County line; Richmond Raceway property in Henrico County; and the former Whitcomb Court school site in the East End.
People may register their preference and comments with the committee at (804) 320-0940, (804) 380-4002 or Hawkcode587@gmail.com.
Mr. Burley said people also can propose other sites.
He personally favors the Maury Street site, which has 15 acres of unused public land, "but I want to hear from the people."
He said he hopes a decision can be made within a few months so work can get underway next year.