Trump scraps program protecting young undocumented immigrants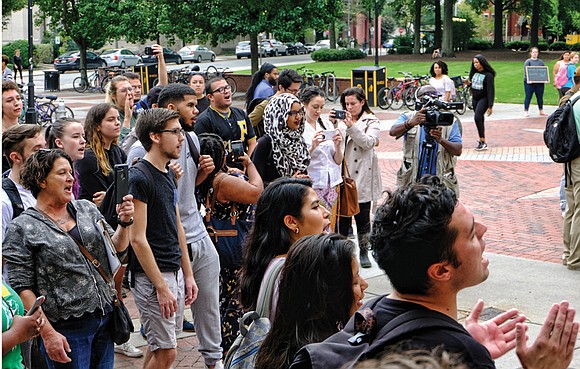 WASHINGTON
President Trump on Tuesday scrapped an Obama era program that protects from deportation immigrants brought illegally into the United States as children, delaying implementation until March and giving a gridlocked Congress six months to decide the fate of almost 800,000 young people.
As the so-called Dreamers who have benefited from the five-year-old program were plunged into uncertainty, business and religious leaders, mayors, governors, Democratic lawmakers, unions, civil liberties advocates and former President Obama all condemned President Trump's move.
The action was announced on behalf of President Trump, by U.S. Attorney General Jeff Sessions, who called the Deferred Action for Childhood Arrivals program an unconstitutional overreach by former President Obama. There will be an "orderly, lawful wind-down," Mr. Sessions said.
President Trump later issued a written statement saying, "I do not favor punishing children, most of whom are now adults, for the actions of their parents. But we must also recognize that we are (a) nation of opportunity because we are a nation of laws."
He denounced President Obama's program as an "amnesty-first approach" toward illegal immigrants and pressed his nationalist "America First" message, saying that despite concerns voiced by his critics about the fate of the Dreamers, "Above all else, we must remember that young Americans have dreams, too."
On Tuesday evening, the Republican president tweeted that lawmakers now had six months to "legalize DACA" and that if they did not, he would "revisit this issue!"
Former President Obama issued his own statement, calling President Trump's action a political decision, defending DACA's legality and urging Congress to protect Dreamers.
"This is about young people who grew up in America — kids who study in our schools, young adults who are starting careers, patriots who pledge allegiance to our flag. These Dreamers are Americans in their hearts, in their minds, in every single way but one — on paper," President Obama said.
The Trump administration said nobody covered by the program, which provided work permits in addition to deportation protection and primarily benefits Latinos, would be affected before March 5. Most people covered by DACA are in their 20s.
President Trump shifted responsibility to a Congress controlled by his fellow Republicans and said it was now up to lawmakers to pass immigration legislation that could address the fate of those protected by DACA who would be in danger of deportation.
President Trump and Mr. Sessions offered no details of the type of legislation they would want to see, and President Trump's spokeswoman offered only a broad outline.
"I have a love for these people (DACA recipients), and hopefully now Congress will be able to help them and do it properly," President Trump later told reporters at the White House, adding, "I think it's going to work out very well."
Since President Trump took office in January, Congress has been unable to pass any major legislation, most notably failing on a health care overhaul, and lawmakers have been bitterly divided over immigration in the past.
"President Trump's decision to end DACA is a deeply shameful act of political cowardice and a despicable assault on innocent young people in communities across America," said Rep. Nancy Pelosi of California, the top Democrat in the House of Representatives.