'This is the moment for real progressive change'
1/19/2018, 6:56 a.m.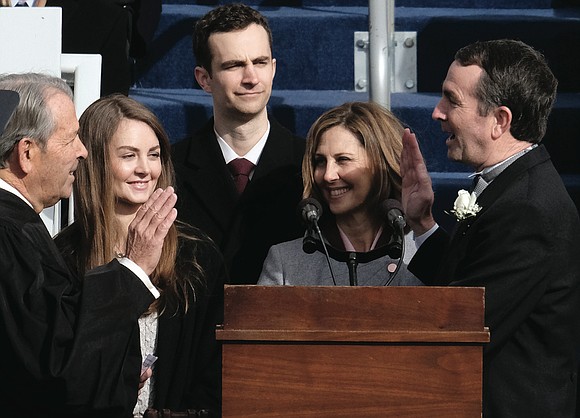 By Brian Palmer
Well before the inaugural ceremonies kicked off last Saturday, former state Sen. Henry L. Marsh III, a groundbreaking civil rights attorney now retired, was seated in front of the stage with a clear view of the podium on the Capitol steps. It was cold, the sky was white and the temperature was dropping, but the 84-year-old seemed not to notice.
As admirers young and old stopped to greet him, he paused briefly to talk with the Free Press.
"This day is the combination of hard work of a lot of people who believe in treating people fairly," said Mr. Marsh, a commissioner on the state Alcoholic Beverage Control Board. "That's what the Democrats do, and that's why we're here."
Our party, he continued, is a party of "white people, black people, handicapped people, straight people, gay people, Muslims, everybody. The promise of America is that everybody will have a fair chance, if you work for it."
He expressed optimism about the future of Virginia, now in the hands of the new Democratic administration of Gov. Ralph S. Northam, Lt. Gov. Justin E. Fairfax and returning Attorney General Mark R. Herring, despite the current national political environment.
"Virginia is optimistic because we didn't follow the trend of some states" toward the Republican Party, he said.
Keisha Samuels and her 13-year-old daughter, Alauna, of Hampton waited in line for hot cider after clearing a security checkpoint in Capitol Square. Ms. Samuels proudly wore her Delta Sigma Theta Sorority jacket over layers of warm clothing.
"I like the upward trajectory of Virginia," Ms. Samuels said. "I hope that will continue, and I think it will with the leadership we're putting in office today."
Ms. Samuels, chair of the Human Services Department at Thomas Nelson Community College, spoke specifically about Lt. Gov. Fairfax, whom she had met two years earlier.
"That day, I was sold," she recalled. "And I said that I would support him 100 percent. It's just nice to see young progressive people moving forward."
Outside the entrance to Capitol Square, a dozen orange-hatted protesters stood chanting. Claudia, a 23-year-old college student living in Richmond, led a round of call-and-response: "We are the immigrants, the mighty, mighty immigrants, fighting for justice and the Dream Act."
"I am a DACA recipient," she said afterward, "and I have an expiration date ever since President Donald Trump rescinded" the Deferred Action for Childhood Arrivals program.
Claudia, who declined to give her last name because of her immigration status, said the protest was to urge U.S. Sens. Mark R. Warner and Tim Kaine to support a bill to help young immigrants, known as "Dreamers," who qualified for protection under the Obama administration's DACA policy.
But President Trump has indicated he will end the DACA program and deport hundreds of thousands of Dreamers who came to the United States illegally as children unless Congress acts.
However, action has been tied to congressional negotiations over the federal budget, with Democrats and some Republicans insisting that the money bill to continue government operations must include language protecting Dreamers from deportation.