Heritage Ensemble Theatre Company starts new season with 'Wine in the Wilderness'
9/15/2017, 12:03 p.m.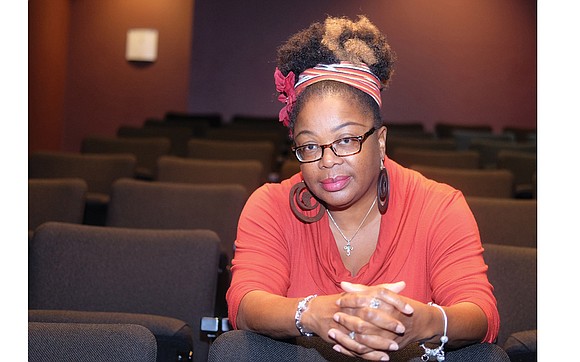 By Thomas Kidd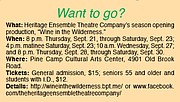 When the curtain goes up on the Heritage Ensemble Theatre Company's 2017-18 season next week, the actors won't be on stage for self-promotion, celebrity or big money.
Instead, they will be performing to bring the African-American experience to the stage.
The small but ambitious company returns for a fourth season to highlight the work of African-American writers, actors and behind-the-scenes artists. First up is "Wine in the Wilderness" by the late playwright Alice Childress, who was known for writing, producing and publishing plays for more than four decades.
Set in Harlem during the 1964 riots, the romantic comedy explores the diverse perceptions of personal relationships in the African-American community, specifically the misconceptions derived when a male artist attempts to define black womanhood.
It's a perfect fit for the young theater company.
"No one tells your story the way you do," said Margarette Joyner, founder of the Heritage Ensemble and a theater instructor at Virginia Union University.
Ms. Joyner, who moved to Richmond 10 years ago from Mobile, Ala., to work as a costume designer for the former Theatre IV, noticed how few African-American theater companies were in the city.

"There is more to black theater than August Wilson," she said of the late Pulitzer Prize-winning playwright. "We love him, but there are writers like Alice Childress, Don Evans, Judi Ann Mason and Charles Fuller — to name a few — who need to be heard as well."
The New Brunswick, N.J., native has been producing plays by both published and unpublished African-American writers, as well as cultivating the actors who bring these works to life.

In 2011, she and fellow actors Shalandis Wheeler Smith and Stephanie Pope Hubbard formed a small group called Creative Souls Acting Troupe. In no time, Creative Souls had begun working with nearly a dozen artists.
The company then expanded and began operating as Heritage Ensemble Theatre, with Ms. Smith as production manager, Ms. Hubbard as financial director and Ms. Joyner as artistic director.
Ms. Joyner put up $2,000 of her own money to finance the group's first production in 2014, "Reflections of a Black Cowboy."
"For every show, it was our goal to make that $2,000 back," she laughed, as she recounted the ensemble's start in a Free Press interview. "Luckily, we kept making it back."

The group has added to that original seed money, thanks to the ensemble's commitment to quality productions and to the generosity of a committed community supporter.
"I saw them when they were performing on the VUU campus and simply liked what I saw," said Albert Ruffin, whose independent insurance company buys out an entire show every season and allows the Heritage Ensemble and other nonprofit organizations to sell the tickets as a fundraiser.
Thanks to such efforts, Heritage Ensemble thrives, and along with it, developing artists like Pamela Archer Shaw. While she has no formal training in the theater, Ms. Archer Shaw has been part of nearly all of the company's productions since its inception. She is the sound designer and prop master for "Wine in the Wilderness."
She recalls her shaky start with the Heritage Ensemble Theatre — not behind the scenes, but as an actress.
"It was awful," she recalled of her first audition with the company. "I forgot my entire monologue. But surprisingly, they called me back. I guess Ms. Joyner saw something in me."
Thanks to the group's tutelage, Ms. Archer Shaw has become an invaluable member of the theater ensemble. She not only offers her talents on stage, but assists with running sound, lights or directing stage readings.
"Heritage takes an angle few others take," she noted. "They nurture and develop. They freely give what you have to pay schools to teach you."
The "Wine in the Wilderness" cast includes Rakeem Laws, Dorothy "Dee-D" Miller, Toney Q. Cobb, Muslima Musawwir and Foree Shalom. It is directed by dl Hopkins.
Ms. Joyner said she sees a correlation between Heritage Ensemble's struggle to forge an identity and that of the play's main character.
"I am really excited about this production," she said. "It's an underdog story and I love an underdog story."