Personality: Angela Cimmino
Spotlight on board president of Down Syndrome Association of Greater Richmond
9/29/2017, 6:44 a.m.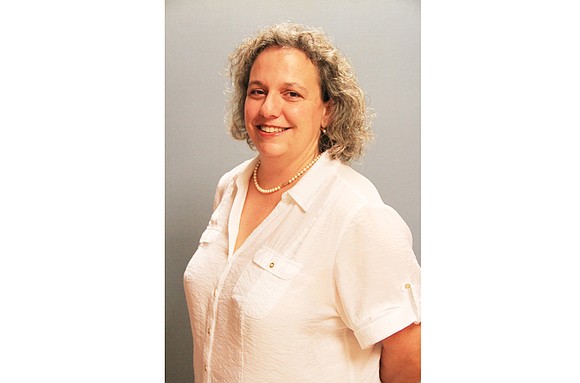 Angela Cimmino found out three days after her son's birth that he had Down syndrome. "We were a bit shell-shocked," she recalls.
But just weeks later, she and her husband attended their first meeting of the Down Syndrome Association of Greater Richmond, and it "was like someone throwing us a lifeline," she says.
"Folks were so welcoming. Just seeing kids and adults with DS doing 'normal stuff' with their families — eating pizza, running around with siblings and friends. It gave us a sense that 'It's going to be OK.' " That was 15 years ago.
Her son, Neil, is thriving, is home-schooled and attends a variety of activities on a regular basis, Ms. Cimmino says.
Since then, Ms. Cimmino has been involved with the association, whose mission is to help individuals with Down syndrome and their families through support, education, community awareness and advocacy.
In January, the Powhatan County resident was elected president of the DSAGR's volunteer board. On Oct. 14, the organization will host its largest fundraiser of the year, the 11th Annual Step Up for Down Syndrome 5K & Family Festival. The family-oriented event will offer information about Down syndrome while highlighting performances and a fashion show featuring individuals with Down syndrome.
The event supports the programs and resources of DSAGR, which serves Richmond, Charlottesville, Williamsburg and Central Virginia.
DSAGR's small staff and dedicated volunteers provide a variety of fun and enrichment programs for all age groups. Programs include education initiatives for ages 5 through 9; transition boot camp for teens and their parents; a summer employment academy for ages 16 through 21; adult employment skills development; a First Call program for new parents with a DS child who can call upon experienced parents; an education conference for parents and educators; and social programs for various age groups.
The association also serves as an information resource for individuals and families with a lending library of books, videos, DVDs, magazines and other materials.
According to the Centers for Disease Control and Prevention, approximately one in every 700 babies in the United States is born with Down syndrome, making Down syndrome the most common chromosomal condition. About 6,000 babies with Down syndrome are born in the United States each year. 
"Parents with a DS child ask ourselves all the time, 'What will the future be for our children?' " Ms. Cimmino says. "To me, sometimes you have to put the question aside and deal with today. "Being in the organization and on the board is a great help in understanding challenges individuals and families face," Ms. Cimmino says. "We provide programs and awareness to help families face those challenges every day."
Ms. Cimmino says DSAGR has grown by leaps and bounds, not only in the number of families and geographic area served, but also in the quality of programs and services it offers. "It's my privilege," she says, "to have an opportunity to give back to this organization that has provided so much support for our family over the years."
Meet this week's Personality and advocate for those with Down syndrome, Angela Cimmino: