Richmond wins national award for health efforts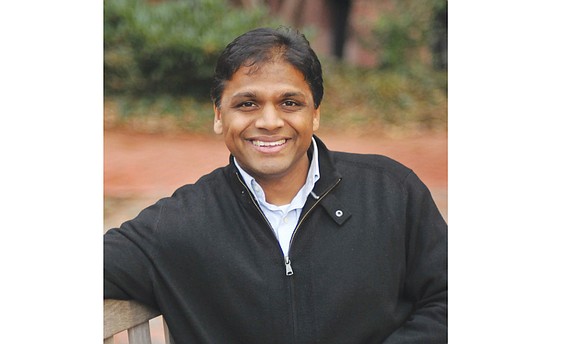 Despite suffering a surge in violence and murders, Richmond is still considered a role model for the nation for its pursuit of ways to enable residents to live healthier lives.
That's the view of the Robert Wood Johnson Foundation.
On Tuesday, the foundation named Richmond as one of eight communities deserving of its 2017 Culture of Health Prize and the $25,000 award that each winner is to receive.
More than 200 communities across the nation competed for the award that honors cities, towns and counties for their efforts to ensure all residents have the opportunity to live healthier lives, according to the foundation.
To Dr. Danny Avula, director of the Richmond City Health District and the person who nominated the city, the award "recognizes our hard work to address the root causes of health disparities in Richmond and our progress toward a shared vision for healthy living."
"What excites me most is the road ahead," Dr. Avula said. "This prize is an opportunity to bring new partners to the table and to be bolder and more intentional as we work to build resilience, wellness and hope in every section of our city."
Dr. Avula said that Richmond "did not receive this award because we have achieved a culture of health. What it signals is that we are thinking and talking about health in different ways."
In selecting the city, the foundation cited Richmond for pursuing innovative ideas and bringing in an array of partners to pursue a shared vision of a healthy community.
Virtually all of the programs that drew the foundation's attention were created during the tenures of former Mayor Dwight C. Jones and Dr. Avula's predecessor, Dr. Donald Stern, who retired in 2016.
For example, the foundation pointed to Richmond's efforts to help families get out of poverty through its Office of Community Wealth Building and to create mixed-income housing.
The foundation also cited the health district's efforts to address teen pregnancy and other issues by opening offices in public housing communities, the city's creation of an Affordable Housing Trust Fund to increase housing options and the creation of a multitude of youth-driven programs to cultivate young leaders.
Other programs that drew praise include the creation of new walking trails, exercise spaces and the development of bicycling and bus infrastructure to provide public transit options.
Dr. Richard Besser, president and CEO of the foundation, said Richmond now joins other award winners who are providing inspiration by "thinking big, building on their strengths and engaging residents."

The foundation will formally present the award to Richmond and the other winners at events Oct. 11 and 12 at its Princeton, N.J., headquarters. The other seven winning communities are Algoma, Wis.; Allen County, Kan.; Chelsea, Mass.; Garrett County, Md.; San Pablo, Calif.; the Seneca Nation of Indians in New York; and Vicksburg, Miss.