Hill helps Maggie Walker Governor's School sprint into the record books
4/6/2018, 12:02 p.m.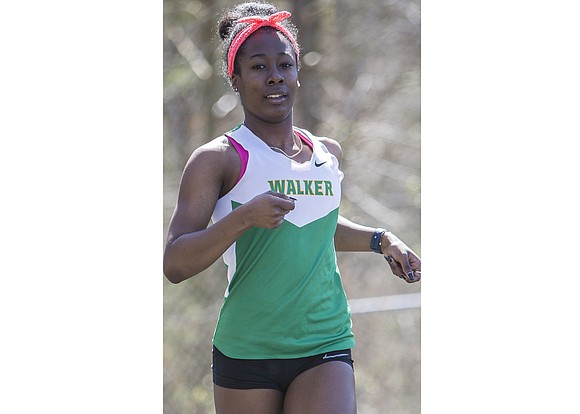 Taylor Hill's stunning success in track and field has surprised many people, including Hill herself.
The Church Hill resident set the bar of expectations quite low when initially signing up for the sport at the Maggie L. Walker Governor's School.
"I'd never been athletic. I just wanted to do something that would look good on college applications," she said. "That was about it."
Little did the daughter of Alvin and Melissa Hill suspect then she'd become the sprinting centerpiece of one of Virginia's all-time powerhouses.
Hill, a senior, has left her spike marks all over the Maggie Walker record book as well as that of the Virginia High School League.
Coach Jim Holdren's Green Dragons are closing in on a historic four-year blitz of the girls' VHSL championships.
Maggie Walker has won four straight state 2A cross-country titles. That goes with four state indoor crowns in a row — including one last month — and three consecutive state outdoor triumphs. The school will try to add a fourth June 1 and 2 in Elkton.
No other school has ever "four-peated" — meaning four straight state championships in the three foot-racing sports.
Hill has run indoor and outdoor, but not cross-country.
"It's really crazy," said Hill, who came to Maggie Walker from the International Baccalaureate Program at Lucille Brown Middle School in South Richmond.
"If we do it ("four-feat"), we'll be the first. As a freshman, I had no idea of the program's reputation. I just wanted to run," she said.
A team captain, Hill holds the Dragons' record for the 55-meters — 7.46 seconds — and has carried the baton on the 4x100 and sprint medley record-setting relays.
She was third at the state competition in the 55-meters during the winter despite recovering from a lower back injury.
"Taylor's body betrayed her, but she remained a leader of the team," said Maggie Walker sprint Coach Ryan Webb. "That's a real testament to her character, how she hung in there even when she couldn't run her best."
At the state outdoor championship a year ago, Hill was third in the 100 meters, sixth in the 200 meters and carried the baton on a fourth place 4x100 relay.
Now fully recovered and feeling like her old fleet self, she eyes a fast finish, both individually and as team, in the homestretch of her career.
None of this was supposed to happen, however.
"I tried a few sports like golf and tennis and never did much," she recalled of her younger years. "I didn't play soccer or basketball because I was too uncoordinated. My hand-eye just wasn't there."
Also, there was nothing to suggest athletic stardom in her family tree.
"It has kind of shocked me — friends of the family, too," she said. "I can tell by their reactions, like 'You run track? Really?' Then I try and tell them I'm quite good at it."
She's nowhere near retiring her running shoes and shorts.
She has been accepted at Virginia Commonwealth, her parents' alma mater, James Madison, Penn State, Ohio State and Abilene Christian universities.
Hill is hopeful of earning scholarship aid. If that doesn't materialize, she'll continue track as a walk-on, if necessary.
That's the way it is sometimes. When a young athlete finally discovers a sport they love, it's hard letting go of it.