104-year-old city real estate firm sold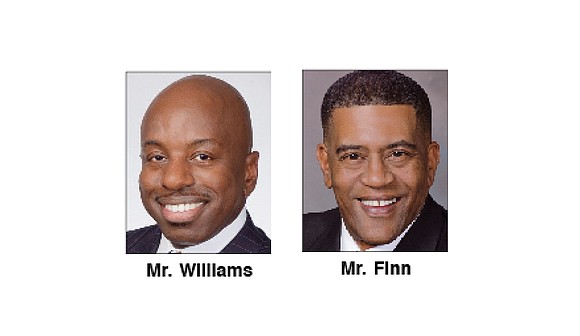 By Jeremy M. Lazarus
Brothers Jeffrey Finn and John S. Finn Jr. are breathing new life into the oldest African-American-owned real estate company in continuous operation in Richmond.
The Finns, both real estate veterans, just acquired the 104-year-old Robinson-Harris & Co. and added it as a subsidiary to their fast-growing real estate company, United Real Estate Richmond.
"We are excited to be in a position to grow the Robinson-Harris branch for another generation," John Finn stated in an announcement.

Mr. Finn stated that the Robinson-Harris office and four employees are being relocated from 1417 Brook Road to space in Hanover County.
Max Williams, a United real estate agent who previously worked with Robinson-Harris, has been named operations manager for the new office that Mr. Finn said would focus on real estate management, consulting and land development.
A 40-year real estate veteran, Mr. Finn said he long dreamed of buying Robinson-Harris.

"When I began my real estate career, Robinson-Harris & Co. was real estate royalty. We hope to bring it to a new level of production and profitability," while keeping it in African-American hands.
The original company was founded in Jackson Ward by S.W. Robinson and S.W. Robinson Jr., the grandfather and father of the late civil rights lawyer and federal appeals court Judge Spottswood W. Robinson III, who teamed with Oliver W. Hill Sr. and other Richmond lawyers to challenged government-enforced segregation.
According to Mr. Finn, early clients of the company included legendary Richmond businesswoman Maggie L. Walker and famed actor and tap dancer Bill "Bojangles" Robinson.
The name changed to Robinson-Harris after J. Reginald Harris became president and remained the same through several ownership changes. The company was most recently in the hands of principal broker Terry Crawley, who is retiring as a result of the sale.
Mr. Crawley said he is delighted the company will have new life.
"The team at United understands the historic significance of our company. I am certain that the name and the dedication to excellence will live on."
Mr. Finn, who previously operated Dominion First Realty in Richmond for 20 years, converted it with his brother to a United Real Estate franchise in 2015, with its base in Chesterfield County.
Starting with six agents, the company now has 135 affiliated agents and ranks as the fourth largest real estate firm in the Richmond area, Mr. Finn said.
Mr. Finn said the company is planning to expand this year with new offices in Virginia Beach and Chesapeake and is looking to add offices in Hampton and Newport News.
Mr. Finn said the growth is because of the company's policy of having agents pay a fixed fee to handle sales, while the agents keep all of the commission.