Evicted
Richmond ranks No.2 nationally in displacing people from their homes and apartments by eviction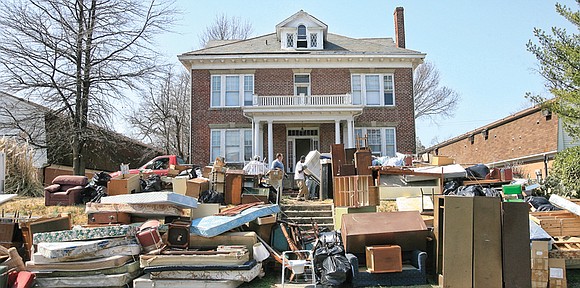 Mr. Slag and other lawyers see the damage that evictions inflict. A tenant who is removed often finds it difficult to rent elsewhere as landlords or their associations enter the information in a shared database.
The result benefits slum landlords, Mr. Slag said. They end up having plenty of applicants to choose from despite failing to maintain their properties, he said.
Eviction is highly stressful for all involved. Children often have to change schools because of a forced move, disrupting their educational experience. The loss of a permanent address also can prevent people from receiving government aid, such as food stamps and Medicaid.
Jay Speer, executive director of the Richmond-based Virginia Poverty Law Center, said rising rents are wreaking havoc with people at the lower end of the income scale. His organization sees many people who are paying 50 percent to 80 percent of their income for housing, "which is unsustainable," he said. 
People making the minimum wage or subsisting on government disability payments are increasingly finding themselves priced out of the housing market as rents rise, Mr. Slag said. These days in Richmond, $500 a month is cheap rent for a one-room apartment. People who stay week by week at hotels are paying $180 a week to more than $200 a week.
In Mr. Slag's view, stemming evictions would require the government to invest more heavily in housing subsidies.
"At least 25 percent of Richmond residents need housing subsidies, but subsidies are only available to about 6 percent," he said.
One of the mainstays is the 4,000 units of aging public housing that the Richmond Redevelopment and Housing Authority is struggling to maintain even as it pushes for money to redevelop its properties into mixed-income communities. Still, as many as 9 percent of RRHA's tenants end up being evicted annually.  
However, lack of money is just one reason for evictions. Renters may pay the rent and still be evicted for violating a "no pet" provision in their lease or for having the lights cut off because people run out of money trying to pay for rent and electricity. People with physical or mental challenges can be booted out for failing to meet cleanliness standards.
And unlike New York City, the first city in the country to provide attorneys to people hauled into housing court on a par with people charged with crimes, most people in Richmond and Virginia cannot afford or cannot get to a lawyer in time, including the Legal Aid staff, which often is submerged in clients.
At least half of those who receive eviction notices move before the matter goes to court to avoid getting a mark on their record.
Mr. Speer said the new data is helping to spur a renewed effort to focus on the policies that undergird the "grim realities of eviction."
The Poverty Law Center is seeking to galvanize a new coalition of lawyers and housing advocates under the umbrella Campaign to Reduce Eviction, or CARE, that is scheduled to meet for the first time on May 22 in Richmond, he said. The time and place are still being determined.
"The excessive number of evictions stems from so many different factors. They range from a shortage of affordable rental housing to the low minimum wage and even the way some of our laws seem to favor landlords over tenants," said Christie Marra, the attorney leading the CARE effort for the Poverty Law Center.
"We plan on taking a careful look at all the factors, determining which factors contribute most to these numbers, and begin making every effort to change or eliminate them. It's simply unacceptable for this many people to live in fear of losing their homes."