Hours, enforcement increase for city meters
4/13/2018, 6:59 a.m.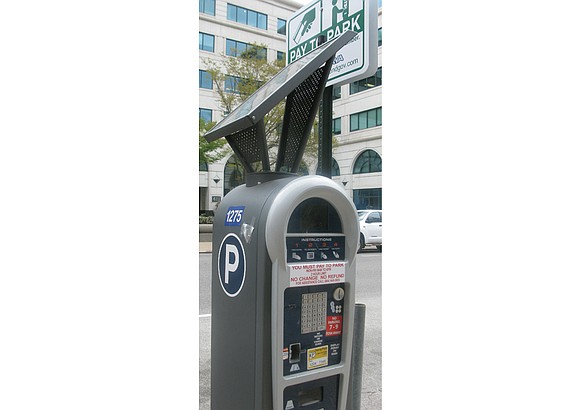 Drivers can now park longer at Downtown street meters, but the city also plans to increase enforcement.
The change, which became effective Monday, allows drivers a three-hour stay in a metered parking space in the Central Business District instead of the current two hours, the city Department of Public Works has announced.
That change aims to give "patrons an opportunity to visit the numerous businesses in the commercial corridor," Public Works spokeswoman Sharon North stated in announcing the change in a news release last week.

Current rules require a driver to move a vehicle at least 500 feet after two hours; the change means the driver would have an extra 60 minutes before having to move.
Ms. North stated that parking rules now are being enforced in some areas from 8 a.m. to 8 p.m., instead from 8 a.m. to 6 p.m. She stated that the extended parking enforcement initially is focusing on Broad Street between Belvidere and 4th streets.
The new rules would require the department to post new signs to notify drivers of the changes, particularly in areas where enforcement has been extended to 8 p.m.
Additionally, as of July 1, people using metered spaces could face a 25 cent hike in the cost of parking each hour — a 20 percent increase — and could face a $25 fine for neglecting to pay. The $25 fine also would be a 25 percent hike, up $5 from the current $20 fine for exceeding parking time limits.
The proposed increases in the cost of metered street parking and parking fines are part of Mayor Levar M. Stoney's budget package sent to Richmond City Council. If approved, metered parking would increase from $1.25 per hour to $1.50 per hour, though still far cheaper than the cost of parking in decks or lots. It would be the first increase since July 1, 2016, when the cost of parking at meters rose from 75 cents an hour to $1.25 per hour.
Mayor Stoney said that the $20 fine for failing to pay the meter fees or letting the time run out has been in place for some time. He said Richmond needs to increase the fine to bring it more in line with other cities, though he noted most big cities charge more. — JEREMY M. LAZARUS