U.S. Supreme Court hears Muslim travel ban arguments
4/29/2018, 1:58 p.m.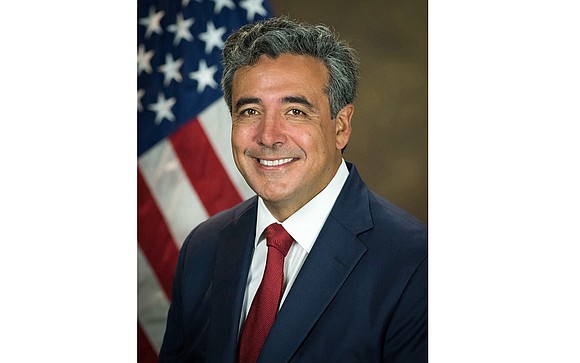 Free Press wire report
WASHINGTON
The U.S. Supreme Court has so far had little to say about Donald Trump's time as president, even as the nation has moved from one Trump controversy to another. That's about to change.
The justices' first deep dive into a Trump administration policy comes in a dispute over the third and latest version of the administration's ban on travel from some countries with majority Muslim populations. Opponents of the policy and some lower courts have labeled it a "Muslim ban," harking back to President Trump's campaign call to keep Muslims from entering the country.
The high-stakes arguments at the high court were heard Wednesday, April 25, and could offer some indication about how a court that runs on respect for traditions and precedent will deal with a president who regularly breaks with convention.
Apart from the campaign statements, President Trump's tweets about the travel ban and last fall's retweets of inflammatory videos that stoked anti-Islam sentiment all could factor in the court's discussion of the travel ban's legality.
"The court could get to the right outcome without getting into the question of his tweets. But I think the president set it up so that it's virtually impossible to ignore him when he's shouting from the rooftops about what his purpose was in the three versions of the ban," said Cecillia Wang, the American Civil Liberties Union's deputy legal director.
Solicitor General Noel Francisco, who will argue the administration's case, said in a court filing that the ban is well within the president's authority and is not based on prejudice against Islam.
In a sign of heightened public interest, the court is taking the rare step of making an audio recording of the proceedings available just hours after the arguments end.
One key issue will be how the court evaluates administration actions.
Neil Eggleston, former President Barack Obama's last White House counsel, suggested in an online forum last week that President Trump does not merit the same measure of latitude that courts usually give presidents, especially in the areas of national security and immigration.
"The court will have to wrestle with how much to defer to a President who has created this record of chaos and animus," Mr. Eggleston and co-author Amanda Elbogen wrote on justsecurity.org.
Josh Blackman, a professor at the South Texas College of Law in Houston, cautioned that the court would be breaking new ground if it were to treat Trump differently from other presidents.
The policy under review at the court applies to travelers from five countries with overwhelmingly Muslim populations — Iran, Libya, Somalia, Syria and Yemen. It also affects two non-Muslim countries: blocking travelers from North Korea and some Venezuelan government officials and their families. A sixth majority Muslim country, Chad, was removed from the list earlier this month after improving "its identity-management and information sharing practices," President Trump said in a proclamation.
Mr. Francisco said the Chad decision shows that the restrictions are premised only on national security concerns. He also said the State Department has cleared more than 430 visa applicants from the affected countries for waivers that would allow them to enter the United States.