Richmond native returns as star of film, helping others at Richmond International Film Festival
4/30/2018, 11:37 a.m.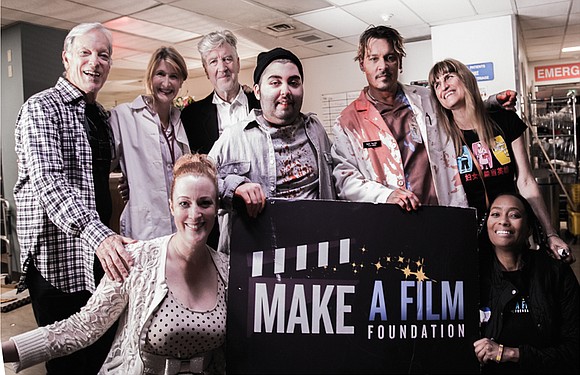 By Samantha Willis
The Richmond of Tamika Lamison's youth has evolved into a thriving artistic hub.
Ms. Lamison, an actor and director who now lives and works in Los Angeles, grew up in South Side in the 1980s.

"When I come home, I certainly see a huge effort to completely infuse a great deal of artistic life into Richmond," Ms. Lamison told the Free Press in a telephone interview last week.
On outings with her parents who still live in Richmond, "I noticed in the past few years that the city seemed to really start catering to the artists who were already there and trying to bring more artists in."
Ms. Lamison returns home this weekend as a guest of the Richmond International Film Festival, where two of her films will be screened on Saturday, April 28.
One, a scary short called "The Black Ghiandola," is a dark thriller about a young man's quest to save his true love as a zombie apocalypse rages through a world ravaged by disease, violence and evil. It stars Johnny Depp, Laura Dern, J.K.Simmons, David Lynch and Richmond native Chad L. Coleman.
It was the brainchild of 16-year-old Anthony Conti of Walpole, Mass., who wrote and acted in the film before his death in early 2017.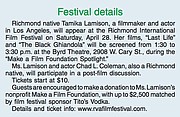 Ms. Lamison's Make a Film Foundation, which she started 10 years ago, granted Anthony's greatest life's wish — to create his own movie — before he died from terminal adrenal cortical cancer. His film, shot over a span of a few short months, represents the mission of the Make a Film Foundation, Ms. Lamison said.
The nonprofit foundation helps young people who are terminally or seriously ill "realize their dreams of creating films," Ms. Lamison said. "We work with a lot of talented professionals, in front of and behind the camera, to make it happen for these kids."
Ms. Lamison and the MAFF team were inspired by Anthony's voracious desire to live.
"Even when (Anthony's) body was betraying him and slowly shutting down, he knew what was happening, but he was fighting it to the best of his ability," she said. "He wanted to live. Our understanding was that if he could make this film, if we helped him do that, he would be alive on screen forever, living his dream.
"Once we all understood that, the magic happened."
The film festival also will feature Ms. Lamison's "Last Life," a feature-length production that stars Ms. Lamison, Kobe Reverditto and Michael Phillip Edwards, who wrote and directed the film.
"We wanted to do a love story that had African-American heroes and protagonists," Ms. Lamison explained. "We wanted to delve into some things that African-Americans haven't been frequently shown dealing with on screen.
"In this particular feature, two lovers discover that they've lived many lifetimes together. They have doppelgänger spirits that visit and tell them that this is their last life and they have some things to put in order before the end."
The film addresses issues of race, bigotry and other types of "isms," Ms. Lamison said. It recently won the best film award at the Houston Black Film Festival.