New players to give VUU new look during basketball season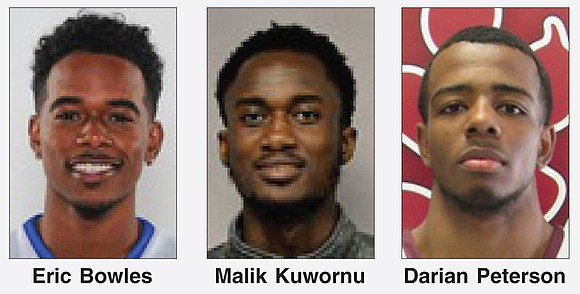 Virginia Union University basketball will have a distinctly different look this season.
After losing six prominent seniors from last season's CIAA championship squad, Panthers Coach Jay Butler has been busy restocking his roster.
Here's a look at seven incoming Panthers:
The transfers
Darian Peterson, 6-foot-5: Transferring from Concord University in West Virginia; helped Chesterfield's Monacan High School to the State 4A title in 2016; has three seasons of eligibility. 
Eric Bowles, 6-foot: Transferring from Central Connecticut State University with one season of eligibility; was State 6A Player of the Year for W.T. Woodson High School in Fairfax in 2014.
Mission impossible?
Virginia Union University will travel to Durham, N.C., on Oct. 23 for a basketball exhibition against juggernaut Duke University at Cameron Indoor Stadium.
NCAA Division I Duke has won five national titles — 1991, 1992, 2001, 2010 and 2015 — under Coach Mike Krzyzewski.
VUU has three NCAA Division II titles — 1980, 1992 and 2005 — under former Coach Dave Robbins.
VUU Coach Jay Butler said he is working to schedule a preseason exhibition game with Virginia Commonwealth University for the upcoming season.
Malik Kuwornu, 7-foot: Originally from Ghana, transferring from Neosho County Community College in Kansas with two years of eligibility; prepped during the 2016 season at Fork Union Military Academy in Fluvanna County.
Incoming freshmen     
Rasheed Gatling, 5-foot-10: Averaged 16 points and six assists last season for Dunbar High School in Washington.
William Miller, 6-foot-1: Arrives from Our Lady of Mount Carmel High in Baltimore.
Demerius Pitts, 6-foot-4: Coming from Springfield Commonwealth Academy in Massachusetts.
Shawn Sanders, 6-foot-4: Was a first team 5A South pick last season at Green Run High School in Virginia Beach; may be an academic red shirt this season.
Also, Coach Butler welcomes back Jordan White (6-foot-6) and Raemaad Wright (6-foot-7) who were red-shirted last season.
There are plenty of holes to fill in the Panthers' lineup.
Seniors Kory Cooley, Todd Hughes, James Paige, Andre Miller, Devin Moore and Micah Thomas combined for 55.1 points per game last season.