VUU leaning on big men for big success on the basketball court
Fred Jeter | 12/1/2017, 8:26 p.m.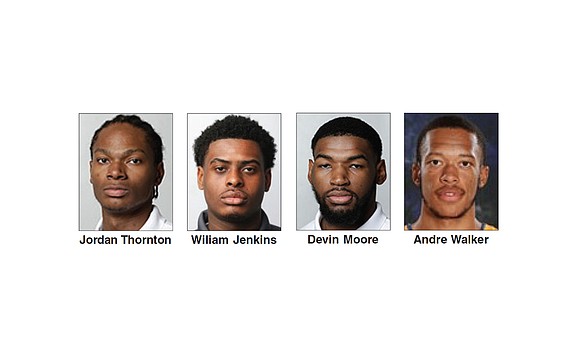 In keeping with its storied basketball past, big men abound at Virginia Union University.
Coach Jay Butler is blessed with multiple low-post options in his third season on the Lombardy Street campus.
Three have taken turns sharing accolades thus far, and a promising fourth will be debuting soon.
The latest of the Panthers taking bows is 6-foot-8, 240-pound Jordan Thornton, who scored 17 points in VUU's 87-67 victory over Winston-Salem State University in the Sunday, Nov. 26, finale of VUU's Thanksgiving Classic at Barco-Stevens Hall.
Flexing his muscles in the paint, the junior transfer from Merrimack College in Massachusetts was 4-for-4 from the floor and 9-for-16 at the foul line, helping the Panthers improve to a 3-4 record so far this season.
Thornton played at Forest Park High in Woodbridge, then spent a prep year at Salisbury School in Connecticut before enrolling at Merrimack College.
"My main role is to create a defensive presence," Thornton said. "Offensively, I like to take it to the rim. Unfortunately they won't all fall. But then you have a good chance of being fouled."
In VUU's 58-56 win over St. Augustine's University on Saturday, Nov. 25, William Jenkins was double-double trouble for the visitors with 15 points and 10 rebounds.
Jenkins is a willowy 6-foot-7, 215-pound sophomore from Baltimore by way of St. Thomas Aquinas College in New York City.
VUU's most experienced big man is 6-foot-6, 270-pound senior Devin Moore from District Heights, Md., by way of Hagerstown Community College in Maryland.
Moore wears No. 44 on the court, but looks better suited for a football lineman number. In fact, Moore had numerous gridiron scholarship offers before deciding on hoops.
A year ago, Moore was the top backup for VUU's 6-foot-9 John Mitchell, an All-CIAA defensive pick.
Coach Butler's fourth low-post candidate is also the tallest and yet unseen player – 6-foot-10, 230-pound Andre Walker, a senior transfer from Hofstra University in New York. The Gaithersburg, Md., native becomes eligible to play later in December following fall semester exams.
"Andre's only got one season here, so he's dying to play," said VUU assistant Coach Robert Johnson. "We feel he has a pro skill set."
Through his old AAU connections, Coach Johnson met Walker years back on the high school travel circuit.
Sometimes the heights of basketball players are exaggerated, but not in Walker's case. He clearly ducks in passing through the 6-foot-9 locker room door at Barco-Stevens Hall.
VUU's uncommon success with tall men can be traced to the 1960s and Coach Tom Harris, who developed two NBA draftees in Bruce Spraggins and "Jumpin' Jackie Jackson."
Coach Harris also recruited Curvan Lewis, an NBA pick in 1977.
Through plenty of arduous recruiting — and perhaps a smidgen of luck — VUU has enjoyed Division I caliber big men in terms of height and skill on the Division II level. The best-known Panthers' post men are Charles Oakley, Terry Davis and Ben Wallace, all of whom went on to sparkling NBA careers.
But don't forget centers Larry Holmes (1980) and Derrick Johnson (1992), who spurred VUU to NCAA crowns.
More recently, Wayne Wallace, Chandar Bingham, Omar Briggs and Mitchell have played dominant roles under the backboards.
This season's squad may not have one player to win All-America, or even All-CIAA honors. But VUU is hoping the cumulative effect of a relay team of big men will push the Panthers to a second straight CIAA Northern Division title and an NCAA bid.