Towering Andre Walker helping VUU push past the competition
Fred Jeter | 2/22/2018, 8:10 p.m.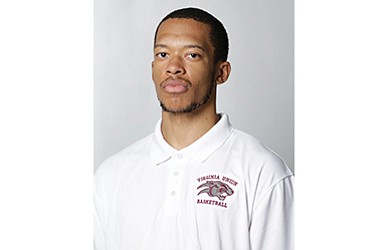 Virginia Union University boasts its own version of "Andre the Giant" in 6-foot-11 Andre Walker.
After a sputtering start, the senior transfer from Hofstra University is aiding VUU's push toward a No. 2 seed for the CIAA Tournament that starts Feb. 26 in Charlotte, N.C.
"Andre struggled with his confidence at first, but he has a good skill set and he gives us a defensive presence inside," said VUU Coach Jay Butler.
Walker enjoyed his best game as a Panther last Saturday with 14 points and eight rebounds in a 79-54 win over Lincoln University of Pennsylvania at Barco-Stevens Hall.
Before that, he had seven points and four rebounds in the Panthers' road win against Bowie State University on Feb. 10, and six points and four rebounds in the down-to-the-wire loss Feb. 7 at Virginia State University.
Defensively, Walker is a towering obstacle in the path of the opposition.
"Locking down the paint, contesting every shot, has always been my first priority," said the 22-year-old criminal justice major from Gaithersburg, Md.
"If the ball comes in there, you need to send it out."
In just 13 games and 131 minutes, he is second among the Panthers with 13 blocked shots. Jordan Thornton's leading 15 blocks has been in 23 games and 285 minutes.
"It's not just the shots he blocks. He alters a lot of shots, too," Coach Butler said.
Walker shares time on the low post with Thornton, a 6-foot-8 junior, and 6-foot-6 senior Devin Moore.
Coach Butler calls it "center by committee."
That doesn't mean two couldn't be on the floor at same time, depending on matchups.
Walker, who wears size 16 sneakers, was already 6-foot-8 in ninth grade at Clarksburg High School in Maryland. As a sophomore, he transferred to The Bullis School in Potomac, Md., where he played on three straight Interstate Athletic Conference championship teams.
At Hofstra University, Walker found himself playing behind 6-foot-9 Lithuanian Rokas Gusty, who is among the nation's top rebounders.
After exploring various college options, Walker chose VUU, calling it "a perfect fit."
"A friend from the AAU circuit called me about Andre," Coach Butler said, adding he remembered Walker as a high school player during his tenure coaching the women's basketball team at the University of the District of Columbia.
There aren't many athletes of Walker's dimensions around the CIAA. The only player listed as taller is 7-foot Lamous Brown, who comes off the bench for Johnson C. Smith University. Chowan University's starting center, Bosnian Dino Muminovic, is 6-foot-11.
While height can be an overwhelming plus on the basketball floor, there are drawbacks, Walker said, especially at bedtime.
"I've been dealing with that all my life — hanging my feet off the side of the bed," he said with a laugh. "You just try and sleep at an angle."
Walker, who lost a few credits in the college transfer, is on course for graduation next year. He hopes to play ball professionally abroad. But wherever he goes, he will proudly take a diploma with him. He is the first person in eight known generations of his family to attend college.
Being a "giant" is nice, but having a sheepskin can mean even more.