VUU signs transfers to boost basketball team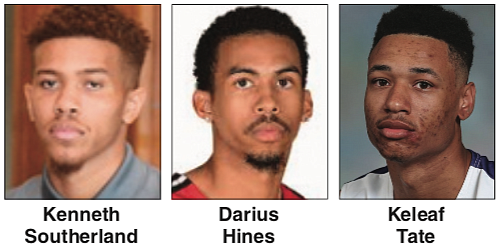 Coming from near and far, help is on the way for the Virginia Union University basketball team.
Coach Jay Butler has signed a pair of transfer students he hopes will make an immediate impact on his CIAA program.
The newcomers are 6-foot-7 power forward Kenneth Southerland from Richard Bland College near Petersburg and 6-foot guard Darius Hines from Marist College in New York of the NCAA Division I Metro Atlantic League.
Also, 6-foot-2 Keleaf Tate, a transfer from Niagara University in New York, which also is part of the Metro Atlantic League, will become eligible after sitting out this past season at VUU.
Southerland averaged 19.7 points, nine rebounds and 2.1 blocked shots for Richard Bland, a Division I junior college squad.
He was selected to the All-Region 10 team and will have two seasons of eligibility at VUU.
Before that, Southerland starred at Varina High School in Henrico under Coach Andrew Lacey, who now coaches at Richard Bland.
Southerland becomes VUU's second Bland transfer in recent years. Tavon Mealy came to VUU from Bland and became one of the Panthers' top scorers and rebounders.
Hines averaged seven points and three steals per game for the Marist Red Foxes in 2018-19.
He was also 42 for 51 at the foul line. Tate, a native of Washington, D.C., averaged five points and two assists during the 2018-19 season for Niagara.
VUU is coming off a season in which it went 18-11 overall and 11-4 in the CIAA. The Panthers defeated CIAA Northern Division champions Virginia State University twice during the season.
The Panthers' season ended in disappointment, however, with a 72-67 loss to Fayetteville State University in the CIAA quarterfinals.
A contributing factor to that loss was absence of junior guard Tyriek Railey, who was sidelined with a leg injury.
In his previous four games, Railey had shot 17 for 34 beyond the 3-point arc. He was missed at the CIAA Tournament in Charlotte, N.C. VUU went just 5-for-23 from the distance against the Fayetteville State Broncos.
A major loss from that Panthers squad is senior guard Terrell Leach, who earned All-CIAA honors while averaging 23.2 points per game.
Leach was selected to the BoxToRow All-America team consisting of players from HBCUs. Rising senior Jordan Peebles made the BoxToRow second team.
In five seasons under Coach Butler, the Panthers are 93-59 overall and 55-25 in the CIAA. VUU won the 2018 CIAA Tournament.