VUU's Terrell Leach is long on talent
Fred Jeter | 12/27/2019, 6 a.m.
If a vote were taken today for CIAA Player of the Year, Virginia Union University basketball player Terrell Leach would be a leading candidate.
The Panthers senior guard has been a catalyst in VUU's six-game winning streak. The Panthers were 8-4 overall and 2-0 in the CIAA entering the holidays.
The 6-foot Leach from High Point, N.C., leads the CIAA in scoring with 257 points and a 21.4 average per game. He is also first in 3-pointers per game (3.3).
Wearing jersey No. 0, Leach can give as well as receive. He's fifth in assists (2.8 per game). He also excels defensively with 1.8 steals per game, while averaging 2.8 rebounds.
He's long on talent and also long on breath. Leach is fourth in the CIAA in minutes played (33.9).
Leach, 25, was rated among North Carolina's top high school players when he first signed with Winston-Salem State University in 2013.
After a season and a half at Winston-Salem (averaging 13.5 points for 48 games), he dropped out of college to take a job assembling bus seats in Thomasville, N.C.
Leach was lured out of hoops "retirement" last winter by VUU Coach Jay Butler. Leach led the team with 21-point average in 18 games a year ago.
Despite an early-season ankle injury, he has been VUU's top scorer nine times, with highs of 31 points against East Stroudsburg University of Pennsylvania and 30 points against Shepherd University in West Virginia.
---
Virginia State University has benefited from having an All-CIAA center the past three years, and don't be surprised if it happens again.
The names change but not the production.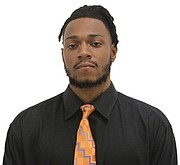 Now it's Andrew Corum's turn to be the "big man in the middle" for Coach Lonnie Blow's invigorated Trojans (9-4 overall, five straight wins).
From Middleburg Academy in Northern Virginia, the broad-shouldered, 6-foot-7 Corum averages 12 points and nine rebounds while hitting 57 percent from the field.
Those figures stack up well with previous post players Richard Granberry, who was All-CIAA in 2017 and 2018, and Jahmere Howze who was All-CIAA last season.
While Granberry and Howze were transfers, Corum signed with Coach Blow out of high school after leading Middleburg to the State Independent Schools' title at VSU's Daniel Gymnasium.
Middleburg is famous for its big men. Another alumnus is former Virginia Commonwealth University center Mo Alie-Cox, who is now playing tight end for the NFL Indianapolis Colts.
The Trojans are making history as they defend their CIAA title of a year ago.
VSU's 99-60 home victory over Johnson C. Smith University on Dec. 21 was the 2,000th all-time victory for the Trojans.
---
Hampton University is hoping for a quick return of All-Big South guard Jermaine Marrow.
The senior was fourth in the NCAA Division I in scoring (24.9 points) when he broke the thumb on his right hand Nov. 23 at Illinois. He has missed the last seven games and Hampton is now 4-8.
Marrow, who is challenging Rick Mahorn's career scoring record with the Pirates, actually played two games with the broken thumb before it was diagnosed. He scored 21 points at the University of California-Bakersfield and 23 points at the University of San Francisco on a grueling road trip.
The Pirates are hoping Marrow will be back Saturday, Jan. 4, for the Pirates' Big South home opener against Charleston Southern University.
---
These are hard times at Norfolk State University, but 6-foot-7 sophomore Chris Ford is making a difference coming off the Spartans' bench.
The former L.C. Bird High School standout averages four points and four rebounds and leads NSU in blocked shots with 20.
NSU (4-10) has lost nine of its last 10 games after a 3-1 start. Now 0-7 on the road, the Spartans lost in overtime to Bowling Green State University 72-67 and to Drexel University 53-49 on Dec. 20 and 21 at the Boardwalk Battle in Atlantic City, N.J.