VUU rebounding in view of TV cameras
Fred Jeter | 2/17/2018, 9:04 a.m.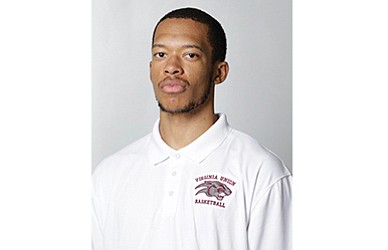 The Aspire TV cameras may have served as a wake-up call for Virginia Union University's slumbering basketball Panthers.
After four straight close, agonizing losses, VUU rebounded with a resounding 74-52 victory Saturday, Feb. 10, at Bowie State University.
Hopefully, the televised triumph bodes well for VUU's future.
Aspire TV is broadcasting the CIAA Tournament, starting with the March 1 quarterfinals in Charlotte, N.C.
Coach Jay Butler's Panthers improved to 12-13 overall and 7-6 in the CIAA with the much-needed win at Bowie State. By contrast, the Bowie State Tigers had won four straight, including a bold road win at Virginia State University.
Next up for the Panthers is a match against Lincoln University at 4 p.m. Saturday, Feb. 17, at Barco-Stevens Hall on the VUU campus.
VUU, Bowie State and Lincoln are in contention for second place in the CIAA Northern Division behind VSU. That's important. Placing second in the division means the team won't play until late in the quarterfinal round on March 1, when a larger fan base arrives at the tournament.
VUU seniors Kory Cooley (19 points), Todd Hughes (13 points) and James Paige (11 points) led the attack in Maryland. Sophomore William Jenkins added 10 points and 10 rebounds.
This is a senior-laded VUU outfit.
In addition to Cooley, Hughes and Paige, other players in their final season of eligibility are senior centers Devin Moore and Andre Walker and graduate student Micah Thomas.
Walker, the 6-foot-11 transfer from Hofstra University who joined the program in late December, is starting to earn more minutes, and seems to be growing in confidence. The Gaithersburg, Md., native had seven points, four rebounds and a blocked shot in 20 minutes of play at Bowie State.
In the Panthers' 60-57 loss on Feb. 7 to Virginia State University, Walker had six points, four rebounds and four blocks in 23 minutes of play.
Cooley and Paige were preseason All-CIAA picks and have lived up to those standards with consistent production. Both are averaging about 12 points per game.
VUU will celebrate Senior Night on Saturday, Feb. 24, against Chowan University. Tipoff is 4 p.m. at Barco-Stevens Hall.