Richmonder Maurice 'Mo' Carter looking for more international hoop time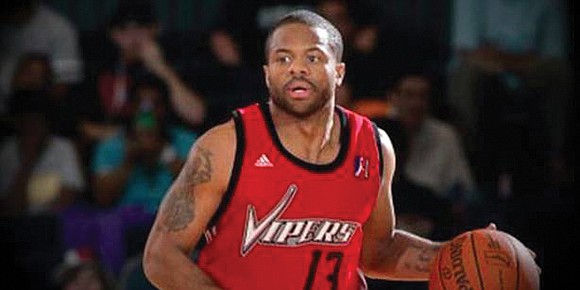 Richmond native Maurice "Mo" Carter didn't have to join the Navy to see the world. He has been globetrotting for years.
The traveling man has earned basketball paychecks in France, Turkey, Puerto Rico, Macedonia, Libya, Canada, Colombia, Venezuela and Mexico, as well as from the NBA "G" League.
"I've been a little bit of everywhere," said Carter, summing up his worldwide adventures after working up a sweat in the Richmond Pro-Am game at Big Ben's Home Court in Richmond.
Now 35, the trim 6-foot point guard isn't about to let any dust collect on his suitcase or moss grow under his sneakers.
"I'm transitioning" to other professions, he said, "but I can still play on a high level."
Carter has dabbled in real estate and car sales and offers youth training sessions on the side.
The 9-to-5 can wait, however. His quickness and smooth jump shot, as well as his sleek waistline, haven't been compromised by age.
"Staying in shape, eating the right things — it has become a lifestyle," he said.       
His enthusiasm hasn't dampened, either.
Last winter, Carter suited up for Rouen Metropole Basket in the French Pro-B League. As the team's elder statesmen, he averaged 11 points per game while logging about 26 minutes per contest.
Prior to his one season in France, he played for Aykon Ankara in Turkey in 2016-17; before that, for Atleticos de San German in Puerto Rico in 2015-16. Before that, he showed off his silky jumper and slashing moves to the rack for the London Lightning in Ontario, Canada.
While the money is sufficient on the international hoops circuit, Carter notes that he's "not traveling alone." His "fan club" features his wife, Annabelle, and 3-year-old daughter, Mila. His mother, Dorothy Carter, was on hand at Big Ben's to do what she's been doing for decades — filming her son's game and leading cheers.
Carter isn't the only baller in the family. His wife played on the Dominican Republic National Team a few years back and later professionally in Iceland.
Safety is always an issue when signing contracts.
"I really enjoyed playing in Turkey," said Carter. "It's one of the best leagues in Europe. But now with all that's going on there, I wouldn't dare go back.
"Right now, I'm not sure where I'll be going next season," he continued. "But I have every intention of playing."
Carter burst on the local scene in the late 1990s as one of two precocious freshman guards for a juggernaut Highland Springs High School squad coached by George Lancaster.
Carter shared the background with another brilliant performer, Jonathan Hargett. As it turned out, Coach Lancaster's dream backcourt didn't last. Hargett transferred out of state following his freshman year. Carter transferred following his sophomore season to DeMatha Catholic High School near Washington, and later to Eleanor Roosevelt High School in Greenbelt, Md.
Carter passed on college offers from the likes of Xavier University in Ohio and Wake Forest University to help build a program at Robert Morris University outside Pittsburgh. At the time, Robert Morris was transitioning from a junior college to NCAA Division I status.
In three seasons at the school, Carter scored 1,261 points while canning 195 3-pointers.
Undrafted by the NBA, he toiled a season for the Rio Grande Valley Vipers of the NBA's G League before taking his game on a world tour. His play with foreign teams started with Trotamundos de Carabobo in Venezuela. His best season statistically was with Bambuqueros, Colombia, where he averaged 28 points.
"I'm a point guard, but I can score," said Carter. "That's why I'm still playing."
The Big Ben Summer League lacks pro-ball intensity, while still providing a chance for conditioning and friendly competition.
Wearing No. 13 for Setliff Law, Carter led the Pro-Am in scoring with 22 points per game. He tacked on another 20 points in the tournament quarterfinal win over SKG Detailing.     
Meanwhile, Carter will pursue more overseas opportunities. It's a big world out there, and it's likely he can already say "basketball" in many languages.