Washington fans looking for Doctson to break out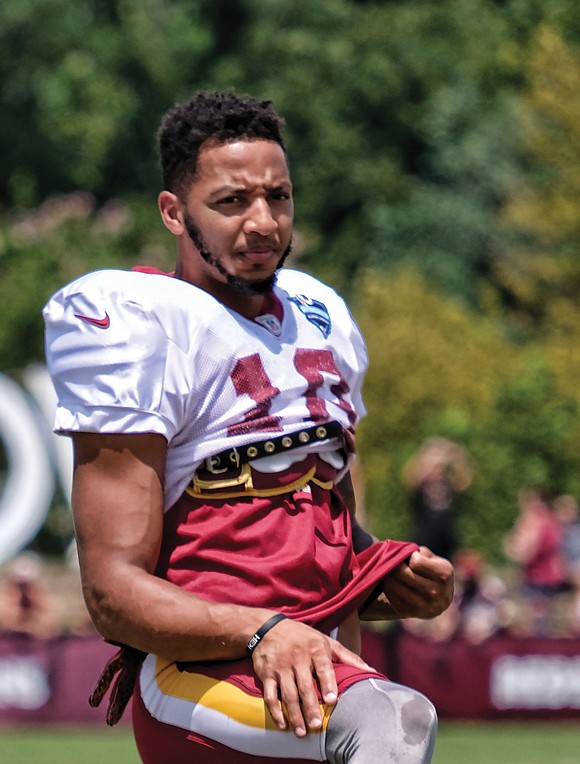 When Washington selected Josh Doctson in the first round of the 2016 NFL draft, fans hoped his career would take off like a jackrabbit.
Instead, his progress has been more akin to a tortoise.
The native Texan needs to pick it up in the coming months if the Washington team is to be a contender in the tough NFC East.
Doctson's 2016 rookie season was derailed by an Achilles tendon injury. He saw limited action and caught just two passes.
Washington fans saw a healthier Doctson in 2017, although he missed much of training camp with a tender hamstring.
In his second NFL season, Doctson made 35 catches for 502 yards — nice numbers but not what's expect from a No. 1 pick.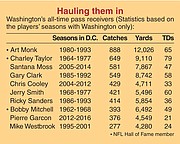 He finished the season on a down note, with just five grabs in the last four games as Washington closed 9-7, missing the playoffs for a second straight year.
Then came a major scare on Aug. 1 in a practice session at the Bon Secours Training Center on Richmond's North Side. Following a collision with teammate Josh Norman, Doctson had to be helped off the field, and fears spread that he may have a serious collar bone or shoulder injury.
Washington fans let out a collection "whew" when MRI results came back negative. Doctson missed a couple days of contact but appears good to go.
"Josh is OK. Everything checked out fine," Coach Jay Gruden told the media last week.
Doctson has what every coach is looking for in a wide receiver. He was measured at 6-foot-2, 202 pounds, at the NFL Combine in 2016. He covered the 40-yard dash in 4.5 seconds, bench pressed 225 pounds for 14 repetitions and unleashed a 10-foot-11 standing broad jump and 41-inch vertical leap.
With a new starting quarterback, Alex Smith, in town, it's about time for Doctson to translate those physical assets to Sunday game times in coming months.
Washington fans are hopeful that this season, Doctson will approach his dazzling college statistics at Texas Christian University. As a TCU senior in 2015, Doctson had 79 catches for 1,327 yards and 14 touchdowns.
The 25-year-old promises big things are around the corner.
"I'm looking to do huge things," he told the Free Press. "The biggest thing on this level is confidence. Last year kind of calmed it down, and now I'm back like I was at TCU."
So far Doctson has enjoyed working with Smith, who came from the Kansas City Chiefs as a free agent to replace the departed Kirk Cousins, who is now with Minnesota.
"It's been amazing. It's been fun," Doctson said of working with Smith.
The 34-year-old Smith passed for 26 touchdowns and 4,402 yards a year ago for the Chiefs.
Smith's 104.7 overall quarterback ranking in 2017 is an upgrade from Cousins' 93.9.
There are targets aplenty on the D.C. depth chart. In addition to Doctson, Washington features wideouts Jamison Crowder and Paul Richardson, tight ends Jordan Reed and Vernon Davis, and ever-dangerous Chris Thompson streaking out of the backfield.
In his fourth year out of Duke University, 5-foot-9 Crowder made 66 receptions for 789 yards a year ago.    
Free agent acquisition Richardson, a former second round draft choice, had 44 grabs for 703 yards a year ago for the Seattle Seahawks.        
Few NFL franchises boast a more glowing history of wide receivers than Washington. Bobby Mitchell, Charley Taylor, Ark Monk, Santana Moss, Gary Clark and others rank among sports' elite.
Doctson has the assets to join that list.