Discounts available after Sunday storm cancels Richmond Jazz Festival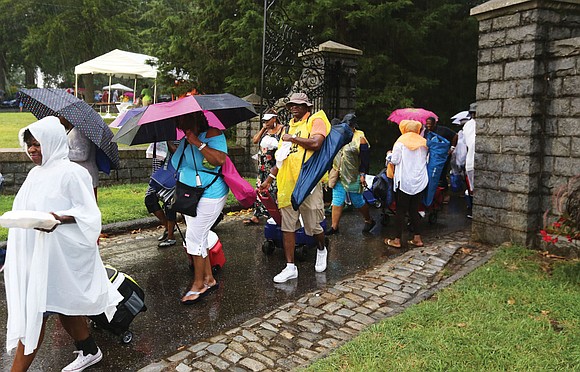 JMI is offering a discount on the purchase of general admission tickets for the 2019 Richmond Jazz Festival after an early evening thunderstorm caused the festival to be canceled last Sunday.
Thousands of people enjoyed the first three days of the Richmond Jazz Festival, but Sunday's finale outdoors at Maymont was shut down about 5 p.m. after torrential rains, accompanied by high winds and severe thunder and lightning, moved through the area.
People were disappointed to miss the evening's top acts, among them The Brian McKnight 4, Maze featuring Frankie Beverly, Nicholas Payton, Eric B. & Rakim and Tony! Toni! Toné!
At least nine groups had performed before the festival was canceled.
"It was a mess," said Cheryl Rollins of the East End, who with her husband, Vincent, are longtime festivalgoers.

The couple, who said they paid nearly $350 for tickets for Saturday's and Sunday's concerts at Maymont, arrived at the festival Sunday to find patrons were being directed to leave the grounds.
"People were trying to drive off while GRTC buses were trying to get through to pick up others."
The festival's website and tickets say the festival would go on "rain or shine," which the couple said they understood. They said they expected the show would go on.
They were angry, they said, when they were sitting at home after the rain ended before 7 p.m., well before Maze was scheduled to perform.
They said they want their money back.
"The decision to cancel the remaining performances on Sunday evening was a difficult one, one we always hope we never have to do. But our patrons' safety is always our No. 1 concern," Frances C. Burruss, senior account manager with JMI, told the Free Press Monday.
She said Sunday ticket holders will be eligible for a 50 percent discount on general admission tickets for either Saturday or Sunday at next year's festival.
To claim the discount, patrons must fill out a form with their name, email address and their ticket ID number or confirmation number from Sunday.
Details and a form are posted at https://richmondjazzfestival.com/discount2019.
"The information will be collected through Sept. 15, and then we will start sending out the codes people can use to purchase the tickets for next year with the 50 percent discount," Ms. Burruss said.
"We will keep our followers informed on social media and the Richmond Jazz Festival app, which is still available for download."
This was the ninth year for the popular festival, sponsored by the former Johnson Marketing Inc., owned by Ken Johnson and now known as JMI. According to the event's website, a portion of the proceeds from the festival benefit the Maymont Foundation and Blue Stone Education Foundation.
Free Press staff writer Jeremy M. Lazarus contributed to this report.