Music, more this weekend at 8th Annual Richmond Jazz Festival
8/11/2017, 12:07 p.m.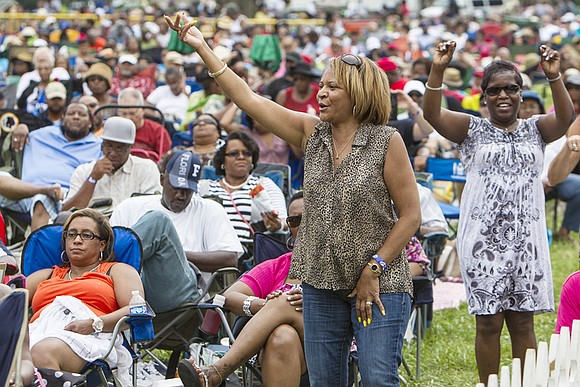 Thousands of music fans will be in Richmond this weekend to enjoy jazz, blues and funk from more than two dozen artists performing at the 8th Annual Richmond Jazz Festival.
The main event will be held Saturday, Aug. 12, and Sunday, Aug. 13, at Maymont, 1700 Hampton St. Gates open at 11 a.m. both days, with performances starting at noon.
The range of music artists to perform at Maymont include Erykah Badu, Pat Metheny, Bob James, Common performing with the Richmond Symphony, Robert Cray, The Isley Brothers, Jazmine Sullivan and The Manhattan Transfer.

In addition to music, the festival will feature complimentary wine tastings by Ste. Michelle Wine Estates, chef demonstrations and artist meet-and-greets.
More than 40 food and merchandise vendors will be on site said Frances Burruss of Johnson Inc., which puts on the festival.
She said the festival will take place rain or shine. Small umbrellas, coolers and chairs are permitted, but no alcohol is allowed, she said.
Performances end around 10:15 p.m., Ms. Burruss said, and GRTC shuttles will run to satellite parking at Dogwood Dell and Virginia Commonwealth University until 11 p.m.
Tickets are $85 for single-day admission or $150 for both days.
On Thursday, Aug. 10, the festival will host The Flavor Project at Hardywood Park Craft Brewery, 2408 Ownby Lane, from 7 to 8 p.m. and the Bobby BlackHat Band at the Virginia Museum of Fine Arts' Jazz Café, 200 N. Boulevard, from 6 to 9 p.m.
Both events are free.
At 6 p.m., Friday, Aug. 11, the festival will feature jazz and R&B bass player Nathan East at "Homegrown at the Hipp," at the Hippodrome Theater, 528 N. 2nd St. in Jackson Ward. Tickets are $30.
The festival schedule, tickets and parking information are available at www.richmondjazzfestival.com