7th Annual Richmond Jazz Festival set for Aug. 11-14
6/3/2016, 12:15 p.m.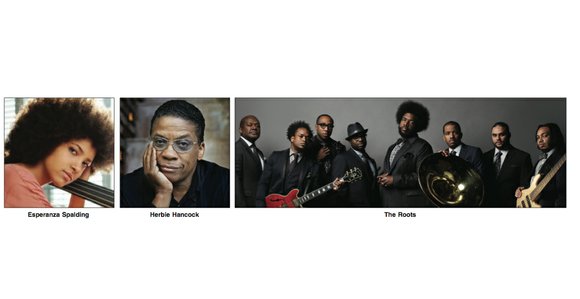 An eclectic mix of Grammy Award winners, world-class singers and musicians and local talent will highlight this year's Richmond Jazz Festival, sceduled for Aug. 11 through 14.
Herbie Hancock, The Roots, Al Jarreau, Michael Franks, Esperanza Spalding, Ramsey Lewis, Diane Schuur, Wyclef Jean, Tome Browne and Jean Carne, Buckwheat Zydeco, Arrested Development, Vanessa Williams and Morris Day and the Time are just a few of the performers who will take the stage.
The festival will be hosted by several venues, including the Virginia Museum of Fine Arts and Hardywood Park Craft Brewery on Thursday, Aug. 11, the Hippodrome Theater in Jackson Ward on Friday, Aug. 12, and at the 100-acre Maymont, a park with rolling hills, lush gardens and a Victorian mansion, on Friday, Aug. 13 and Saturday, Aug. 14.
This is the seventh year for the event put on by marketing and promotions guru Ken Johnson, president of Johnson Inc., with a range of corporate sponsors. A portion of the proceeds will benefit the Maymont Foundation and the Richmond Jazz Society.
This year's theme: "Love Music, Love Life."
"Each year, Ken curates a roster of artists that will bring to Richmond a diverse audience from across the country and the globe," said Jasmine E. Roberts, senior director of client services at Johnson Inc. "He strategically selects world-renowned, award-winning talent … until he has a roster that will connect with festival patrons and deliver a one-of-a-kind experience."
Attendance at the four-day event ranges between 10,000 to 15,000 people, depending on the weather, Ms. Roberts said.
In addition to the music, the Richmond Jazz Festival will feature complimentary wine tastings from Ste. Michelle Wine Estates, chef demonstrations, artist meet-and-greets and more than 30 food and merchandise vendors.
Admission is free for the events at the VMFA and Hardywood Brewery; $30 for "Homegrown at the Hipp" at the Hippodrome; and $85 for single-day tickets for Maymont, or $160 for the weekend.
For details, including the festival schedule, go to www.jazzatmaymont.com or www.Facebook.com/RichmondJazzFestival.