Prayers go out to 'Queen of Soul'
Icon Aretha Franklin reportedly is in hospice at her Detroit home; family at her bedside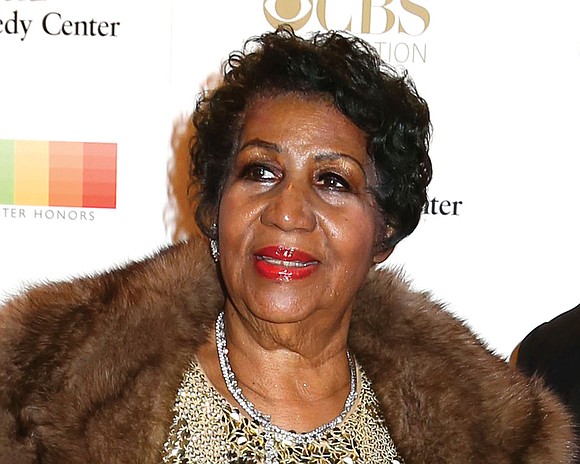 Prayers from across the nation and the around the globe are pouring in for legendary singer Aretha Franklin, who has fallen gravely ill.
Ms. Franklin, 76, a legendary gospel and R&B singer whose reign as the "Queen of Soul" spans more than 50 years, is under hospice care at her home in Detroit's Riverfront Towers, according to publicist Gwendolyn Quinn.
Ms. Quinn declined to discuss Ms. Franklin's ailment, but said, "She's seriously ill."
Fans, friends and fellow entertainers — from Mariah Carey, Chaka Khan, Rod Stewart and Tyler Perry to Lin-Manuel Miranda, Missy Elliott and Wayne Brady — posted prayers and positive wishes on social media after news spread early Monday of Ms. Franklin's serious condition.
Family was reported to be at Ms. Franklin's bedside, where she was visited Tuesday by fellow recording artist Stevie Wonder, civil rights leader Jesse Jackson Sr. and her ex-husband, actor Glynn Turman, her publicist said.
The singer, whose hit songs include "Chain of Fools" and "Think," has a long-standing professional relationship with Mr. Wonder, with whom she performed 13 years ago at the Annual Soul Train Lady of Soul Awards in Pasadena, Calif.
Ms. Franklin and Mr. Turman were married from 1978 to 1984.
Beyoncé, who was performing with her husband, Jay-Z, Monday night at Detroit's Ford Field, dedicated her concert to Ms. Franklin, bringing the 40,000-plus strong crowd to its feet.
"We love you," Beyoncé said, thanking the singer for "the beautiful music."
DJ Khaled, who opened the show, drew cheers when he played Ms. Franklin's 1967 breakthrough hit, "Respect," that became a song of empowerment during the Civil Rights Movement.
Ms. Franklin has long been embraced by her hometown. Ford Field is near Aretha Franklin Way, the Detroit street named last summer for the singer.
On Tuesday and again on Wednesday, congregants at Detroit's New Bethel Baptist Church, where Ms. Franklin's father preached and where she sang as a child, held prayer vigils for Ms. Franklin.
Morning radio show host Tom Joyner, a longtime friend of Ms. Franklin, gives updates about her health daily on his national show and asks listeners to continue to pray for her. Playing in the background are some of her Top 10 hits, "I Say a Little Prayer," "Natural Woman," "Respect" and others.
Ms. Franklin has battled undisclosed health problems in recent years. She canceled planned concerts earlier this year after she was ordered by her doctor to stay off the road and rest. She was scheduled to perform on her 76th birthday in March in Newark, N.J., and at the New Orleans Jazz and Heritage Festival in April.
Last year, the icon announced her plans to retire, saying she would perform at "some select things." One of these events was a New York gala in November for the 25th anniversary of Elton John's AIDS foundation. Ms. Franklin closed the event with a collection of her songs.
In her heyday of the 1960s and 1970s, Ms. Franklin dominated the music charts with her hits, including "I Never Loved a Man (The Way I Love You)" and "Baby, I Love You." Fifty years later, her fans still love her.
"Your music has moved and inspired a generation," Emmy Award-winning actor Sterling K. Brown said Monday. "So my prayers are with you. Wishing you all the best, queen."
Former President Bill Clinton tweeted a request Monday night.
"Like people all around the world, Hillary and I are thinking about Aretha Franklin tonight and listening to her music that has been such an important part of our lives the last 50 years. We hope you'll lift her up by listening and sharing her songs that have meant the most to you," he wrote.